Fontana del Papa
Trip Planning, Italy, Cooking Classes and Tours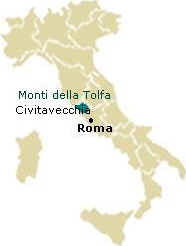 Visit the Fontana del Papa website

Italian FAMILY hospitality HOME food COOKING & WINE. Courses for KIDS - CIVITAVECCHIA Cruise - ROME
Location: Northern Latium - Civitavecchia - 1 hour from Rome

This is a small, family-run "casa in campagna" near Rome.
Enjoy true Italian hospitality and foods in a 16th century family house in a totally secluded environment surrounded by more of 500 rare "cultivar " olive trees. Absolute peace and quiet with spectacular views.
The large stone walls help maintain cool temperature in the summer months, and warm in winter. Terracotta floors, original chestnut beams and vaulted ceilings. Great care we taken during renovations to preserve these centuries - old features. We have certified organic kitchen garden and olive oil.

Visit the Fontana del Papa website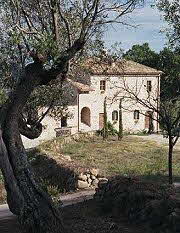 Who
Claudio & Assuntina, the owner, live there and are able to provide a warm and personal welcome to their guests, seeing to their individual needs, making their stays comfortable and their holidays memorable.

Where
Monti della Tolfa northern Lazio makes a perfect base for exploring the sights of Rome and the stunning area of Etruria,. Rome is one hour's drive away, or 50 minutes from Fiumicino airport - they can help if you would like transfers to / from Rome airport or Civitavecchia train station or port.

It's possible to create your own personalized program combining cooking classes with touring. If you don't want to cook every day, we will help you with any information to discover this unspoilt and unknown area.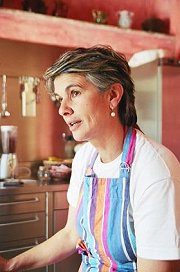 Cookery Courses
Ever dream of waking up in a rustic farmhouse north of Rome? In a room with a view? Where outside your window an unspoiled landscape includes 500 olive trees? To a wholesome breakfast made with country-fresh ingredients?
All this is just the beginning to our cooking programs that offer the unique opportunity to experience Italy through its cuisine, in an authentic Italian home setting, where time at the table is sacred and food is celebrated
The classes are taught in Italian and are translated into English.
Our teachers, use traditional family recipes, demonstrating cooking techniques passed down from their mothers and grandmothers. You will learn as they did – hands on! Or in the pasta!!!!
The produce we use is picked fresh from our garden and the organic extra virgin olive oil is our own – Fontana del Papa.
Claudio, expert Sommelier will share with you his knowledge in wines, grappa & olive oil through tastings. When in season walking excursions into the surrounding countryside to pick and learn about wild mushrooms, wild salads, herbs, according to the season.
We offer one-day, long week-end or week-long programs. Because our class size is small (usually 4-6 participants) we are also able to design a custom program to suit your interests and time frame, mixing both tour excursions with cooking lessons. We promote pure food that is local, seasonal and organically grown and can arrange vegetarian cooking courses and programs suitable for children & kids.

What makes this holiday special?
Let us welcome you to our home, our country and our traditions. Dedicated to preserving our rich heritage and traditions through cooking classes, we invite you to join us in our family country home. Our classes are small, informal and taught in our own kitchen. Family with kids are welcome!

We operate in a way that promotes an awareness and a respect for our natural environment.
We support the local community economically by bringing our groups to this rural area in Italy.

We hire local women to work with us and to teach our classes.

Our cooking courses offer regional cooking , mainly vegetarian, using recipes and techniques passed down throughout the generations.
Visit the Fontana del Papa website
Please contact:
Assuntina Antonacci
Phone: 0039 076693455
Fax: 0039 076693455

- www.fontanadelpapa.it -Untouched and off the beaten track - Monti della Tolfa nothern Lazio Rome Italy
- www.cookitaly.it - Tutored wine tasting & Cooking Courses in Etruscan land