NASTURTIUM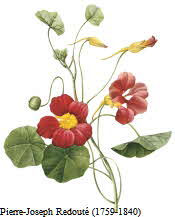 The common garden nasturtium (Tropaeolum majus) also called Indian Cress, Mexican Cress, Peru Cress and Jesuit's Cress, is native to Central and South America (not to be confused with the genus Nasturtium, which is Watercress).

Nasturtiums are one of the most widely recognized edible flowers.

Nasturtiums, Tropaeolum majus, are grown worldwide, both as garden flowers and for culinary uses. The brilliant yellow, orange or red flowers and peppery flavored leaves are used in salads (See Nasturtium Salad recipe).

The flowers may also be chopped and used to flavor butters, cream cheese and vinegar; the immature flower buds and seed pods may be pickled and used like capers.

There is also a species found in the Andes which is grown as a vegetable tuber crop.