NASTURTIUM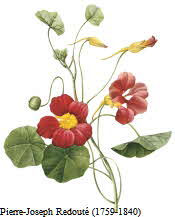 The common garden nasturtium (Tropaeolum majus) also called Indian Cress, Mexican Cress, Peru Cress and Jesuit's Cress, is native to Central and South America (not to be confused with the genus Nasturtium, which is Watercress).

Nasturtiums are one of the most widely recognized edible flowers.

Nasturtiums, Tropaeolum majus, are grown worldwide, both as garden flowers and for culinary uses. The brilliant yellow, orange or red flowers and peppery flavored leaves are used in salads (See Nasturtium Salad recipe).

The flowers may also be chopped and used to flavor butters, cream cheese and vinegar; the immature flower buds and seed pods may be pickled and used like capers.

There is also a species found in the Andes which is grown as a vegetable tuber crop.

FOOD TRIVIA and FOOD FACTS
Please feel free to link to any pages of FoodReference.com from your website.
For permission to use any of this content please E-mail: [email protected]
All contents are copyright © 1990 - 2023 James T. Ehler and www.FoodReference.com unless otherwise noted.
All rights reserved. You may copy and use portions of this website for non-commercial, personal use only.
Any other use of these materials without prior written authorization is not very nice and violates the copyright.
Please take the time to request permission.


FoodReference.com (since 1999)
FOOD TRIVIA and FOOD FACTS SECTION