See also: 3 articles on Beer - Beer Trivia - Beer Quotes
ANHEUSER-BUSCH, ANHEUSER BUSCH
In 1876 Adolphus Busch devised a way to distribute the new Budweiser brand nationally by setting up a network of icehouses to keep railway cars of beer cool during shipping.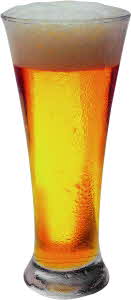 Michelob beer was introduced by Anheuser Busch in 1896 as the 'draught beer for connoisseurs.'
By 1901 Anheuser Busch was brewing 1 million barrels of beer each year, and by 2002 it was brewing more than 100 million barrels of beer - over 20% of all beer sold in the U.S.
Anheuser-Busch introduced Bud Light in 1982. It has fewer calories than Budweiser.
Budweiser beer was introduced into Great Britain in 1984.
Anheuser-Busch brewery in St. Louis, Missouri is the largest beer producing plant in the nation.
Annual 2001 beer production in the U.S.: 195,000,000 barrels.
Annual 2001 beer production of Anheuser-Busch: 93,000,000

Please feel free to link to any pages of FoodReference.com from your website.
For permission to use any of this content please E-mail: [email protected]
All contents are copyright © 1990 - 2023 James T. Ehler and www.FoodReference.com unless otherwise noted.
All rights reserved. You may copy and use portions of this website for non-commercial, personal use only.
Any other use of these materials without prior written authorization is not very nice and violates the copyright.
Please take the time to request permission.
FOOD TRIVIA and FOOD FACTS
CULINARY SCHOOLS
& COOKING CLASSES
From Amateur & Basic Cooking Classes to Professional Chef Training & Degrees
FoodReference.com (since 1999)
FOOD TRIVIA and FOOD FACTS SECTION