ANGEL FOOD CAKE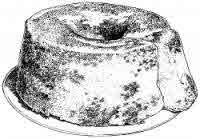 Angel Food Cake is a variation of a Sponge Cake.

Sponge cakes (foam cakes) are made by whipping eggs so that air is trapped in the batter. They have no other leavening, and contain no shortening of any kind. They have a 'spongy' appearance and texture due to the trapped air bubbles. Sponge cakes contain both egg whites and egg yolks.
Angel Food Cakes contain no egg yolks, and are the lightest of all. They require a delicate balance of ingredients and proper techniques and cooking times & temperatures. Traditionally, and necessarily baked in a tube pan to maintain height, lightness and to cook properly.

Light and airy, the lightest of all, and white like the clouds - hence Angel Food.

The name originated in the U.S. and according to the Oxford English Dictionary, the earliest appearances in print date to the early 1880s (Mrs. Owens Cookbook 1881, Good Housekeeping 1886, etc.)
(Earlier 16th-18th century - references to 'angel's food' refer to a strong ale and 'angel bread' was a purgative cake made with oatmeal flour).