Culinary Destinations
Food Tours & Wine Tours and Cooking Classes in Spain
EPICUREAN WAYS
Culinary Destinations in Spain

Epicurean Ways
We specialize in providing authentic culinary experiences in the regions of Spain. We believe that food and wine are among the most pleasurable ways to experience a place and become acquainted with its culture. The conviviality of the Spanish table, the purity of the food products and the wealth and inherent simplicity of the cuisine enchant us. We share this with you on our culinary journeys.
Click Here for Epicurean Ways Website

We do this by exploring kitchens, markets, producers, vineyards, and tables. We take you off the beaten track to places where food and wine are paired. It may be cooking lessons in a back-roads village inn, a behind-the-kitchen-door class with a Michelin-starred chef, a bodega tour with the vintner, a taste of artisan cheese, or a private tapas tour.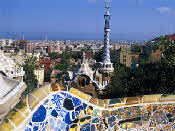 Our focus is on an in-depth experience of Spanish regional culture through its food and wine. The focal point of some of our programs is the cooking classes. For other programs it is cooking and cultural exploration. And other programs are culinary tours with no cooking classes. All programs offer culinary experiences such as wine tasting, vineyard visits, specialty food tasting, meals in authentic traditional restaurants, and tapas tours, as well as cultural/historical visits. Our experienced guides are culinary experts, local chefs and long-time local guides. We emphasize interactions with local experts such as chefs, winemakers, cheesemakers, and specialty food vendors.
Click Here for Epicurean Ways Website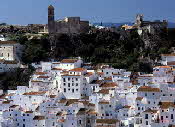 Our Tours
Our Culinary Adventures allow the participants to savor a single region or city in Spain with a small group of fellow food and wine travelers. Our culinary travel experiences are intimate and tailor-made, immersing you in the food and wine landscapes in settings at once exotic and enchanting.

Our Food and Wine Tours guide you through food-and-wine-worthy parts of Spain moving at a comfortable pace. We encounter culinary excellence in a range of restaurants and wine cellars. We meet notable winemakers and taste their wares. We stay in winery hotels, Spanish National Paradors, and unique hotels throughout. Expertly guided, these tours allow you to taste the best that Spain has to offer.

We can work with you to design your ideal culinary vacation for as few as two people. Tours are fully customizable for groups of family, friends, or clubs. If you only have one or two days and would like to participate in a cooking class or a tapas tour, we can arrange that for you.
Click Here for Epicurean Ways Website

Sustainable Travel
We support international sustainable travel by providing culturally authentic culinary travel experiences that protect and help to preserve the unique food and wine cultures of the places we visit. We belong to Sustainable Travel International.

Some of our Culinary Adventures:
Catalonia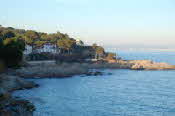 • Cooking in Barcelona.
• Catalan Cooking in the Empordà.
• Priorat Cooking Vacation.
• One Day Cook.
• Wine Country Walking–Coming soon.
• Barcelona to Cadaqués Tour–Coming soon.

Andalucía
• A Taste of Andalucía.
• Adventures in Andalucía.
• Seville Cooks.
• One Day Cook.

Castille
• Adventures in Madrid.

Basque Country
• Gourmet San Sebastián.
Click Here for Epicurean Ways Website

Founder
Jane Gregg, Founder and Managing Director of Epicurean Ways, is a long-time lover and passionate student of Spanish culture and cuisines. She has spent many years studying Spain and exploring culinary regions of the Peninsula. She has lived in Catalonia, Andalusia, Galicia and Madrid, and now lives in Charlottesville, Virginia, traveling to Spain throughout the year to eat and explore the mysteries and delights of Spanish cuisine. She shares the guiding of the cooking tours with local experts in Spain.