Füri Qüantum East/West Knife & Diamond Fingers Sharpener
New Products Reviewed 11/2003 by Chef James.
FURI BENCH-TOP PROFESSIONAL KNIFE SHARPENER
There are many inexpensive, hand held knife sharpeners with a V shaped opening that you draw your knife through to 're-edge' the blade.
The Furi Professional Sharpener works on the same basic principal as many others, but it is made to last forever. The triangle shaped cutters are adjustable, so you can have a longer or shorter angle on the cutting edge, depending on your preference. They also include a brass gauge with 2 different angles (and a tiny screwdriver) so it is very easy to adjust the cutting angle. The cutters are also replaceable. This is a TOOL - not a throw-away. And much better than any other similar tool I have used.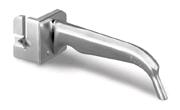 I used the Furi on almost 80 knives in 3 different local restaurants (and my own knives). The results were excellent.

One of the restaurants has a professional stop in and re-edge their knives once every couple of weeks. I talked to the Chef, and he let me take the knives between lunch and dinner to re-edge them. The cooks were not told that the knives were being re-edged by someone else. I stayed in the kitchen talking to the chef when the night cooks arrived, to see if anyone noticed a difference. They did. Without any prompting, they all commented that someone different must have re-edged them because they had a 'much better edge than usual.'

BOTTOM LINE: Buy one of these if you care for your knives - you won't regret it.


FURI CLEAN CUT CUTTING BOARD SYSTEM

A thick, solid cutting base with color coded interchangeable cutting mats. Cut your chicken up, remove the cutting mat and insert another one to chop your vegetables. No longer do you have to completely wash the cutting board as you go from chicken to cooked meat to pork to vegetables. Simply replace the cutting mat, and wash the mats when you are all done.
The mats fit so perfectly that you do not notice you are working on a removeable surface. The mats also make it easy to carry chopped ingredients to the stove - just curl the mat up and pour into the pot.

BOTTOM LINE: An excellent time saver in the home kitchen - I found it a little small for some tasks in a restaurant setting. Hopefully they will add a larger version. In my home kitchen, it is invaluable - I wouldn't give it up for anything.


New Product Reviews of July 2003
Just before I came down with pneumonia and rheumatoid arthritis in June , 2003, I had been sent a Quantum-Füri East/West knife and a Füri Diamond Fingers knife sharpener (photo below) by Ron at CulinaryCultures.com

I
spent a total of 6 hours on 2 different days volunteering for prep work at 2 local restaurants so I could give the knife and sharpener a good workout. The design of the Quantum-Füri East/West knife is excellent - it is extremely comfortable to work with - the design is as the name implies, a combination of a chef's knife and a chopper - the best of East & West. After hours of chopping 3 gallon buckets of onions, tomatoes, celery, papaya, plantains, green peppers, and pork - my hands and wrists hardly felt the workout! That says a lot for the comfort of this knives' design. Great balance, very comfortable, and it held its edge through it all.
The Diamond Fingers knife sharpener looks strange - but it works better than any other sharpening tool I have ever used. I had a dozen or so cooks at the 2 restaurants use the sharpener. Not one negative comment ! I have never had such a positive reaction to any knife sharpening tool before.

BOTTOM LINE: You must check these out. If you need a new knife and/or sharpener, these are the ones to buy. Even if you don't need new ones, you should buy them. They are that good.

NOTE: When my hands and wrists were swollen up from the rheumatoid arthritis, the East/West knife was the only one I could use - the additional weight of my other chef's knives (Henckel's) were just too much to hold. The Füri East/West was light enough and felt so balanced in my hand that I was still able to do some food prep for myself. The depth of the blade and shape/angle of the handle also helped considerably. I cannot stress the sincerity of my recommendation enough - I really do highly recommend it, and I believe that the design may help prevent repetitive motion problems in the wrist and thumb after decades of using a chef's knife.