200 YEARS OF COLMAN'S MUSTARD
(Recipes below)
July marks the 200th Birthday of Colman's. Along with the celebration of our country's rich history comes fireworks, baseball and, of course, barbecues. Over the years mustard has grown to be America's most popular condiment and is incorporated into millions of celebrations every July. It is often easy to forget the storied history that lies in one of the world's most recognized brands of mustard, Colman's Mustard.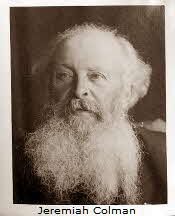 Established in 1814, Colman's Mustard of Norwich has been widely recognized as the most iconic English mustard. Using a unique and zesty blend of brown and white mustard seeds, Jeremiah Colman created a mustard that has become a paramount ingredient for recipes worldwide, even to the highest royal order. In 1866 Queen Victoria bestowed the ultimate seal of approval – the Royal Warrant – galvanizing Colman's Mustard as the crown jewel of mustards, securing its place in the most discerning kitchens around the world.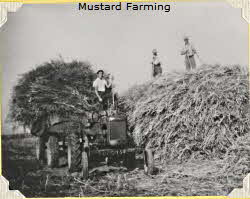 Mustard has grown in the fields of England since Roman times, and mustard's origin has been traced back to 460 BC to the pioneering Greek physician Hippocrates. Classified as an herb, black mustard seed's ancient application was prominently medicinal. Mustard ranks as the number one condiment in the U.S., and has risen to acclaim as an edible accompaniment around the world.
(See also: Mustard Trivia - Cutting the Mustard - Mustard Greens Tips

COLEMAN'S ON THE GRILL
Colman's Mustard, the most iconic English mustard, has shared some Dos and Don'ts to remember for hosting the perfect summer barbecue:
DO give your guests the royal treatment -Colman's is a Royal favorite in the UK, so why not fancy up your all-American cookout with it! In 1866 Queen Victoria bestowed Colman's with the ultimate seal of approval - the Royal Warrant. Since then it has been stocked in the Royal kitchen at Buckingham Palace.
DON'T ditch your diet -Just because you're chillin' and grillin' doesn't mean you can't (and shouldn't) eat healthy. Colman's Mustard products are fat-free, cholesterol-free, kosher and contain no dyes, chemicals, or preservatives. Colman's provides dishes with a pure, fiery compliment, and research has shown spicy foods boost your metabolism.
DO give guests a history lesson -Did you know Colman's Mustard is just 38 years younger than the United States of America? The iconic mustard brand will celebrate its 200th birthday this July. In fact, mustard seeds have grown since Roman times, and mustard's origin has been traced back to 460 BC to the pioneering Greek physician Hippocrates.
DON'T compromise quality -Unlike any other form of mustard seeds, Colman's Mustard stems from a unique, invigorating blend of high-quality brown seeds (Brassica Juncea) and white seeds (Sinapis Alba) that create the perfect essential for flavorful dishes, rubs, sauces and more.
Here are two great grilling recipes:
SALMON WITH HOT SWEET MUSTARD
INGREDIENTS: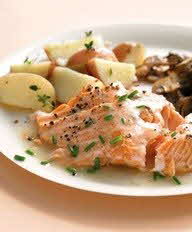 • 1 can Colman's Dry Powder Mustard
• 1 cup cider vinegar
• 1 large egg
• 1/2 cup of sugar
• 1/2 cup of honey
• 1/4 tsp of salt
DIRECTIONS:
Prepare mustard at least one day ahead.
Soak 1 large can of Colman's mustard in a double boiler overnight with 1 cup of cider vinegar.
The next morning add 1 large or 2 small eggs, 1/2 cup of sugar, 1/2 cup of honey and 1/4 tsp. salt.
Heat and simmer mustard for 10 minutes stirring frequently.
Cool and refrigerate.

Brush salmon fillets with oil, salt and pepper.
Grill salmon on preheated grill with oiled grill racks for 4 minutes.
Turn and cook another 4-5 minutes.
Remove to platter and let rest 5 minutes.

Serve at room temperature or delicious served chilled with Hot Sweet Mustard.
Perfect with roasted summer vegetables and quinoa.

GORGONZOLA & SUN-DRIED TOMATO STUFFED BURGER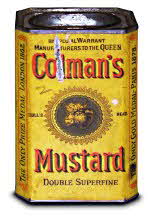 INGREDIENTS:
• 3 lbs ground beef
• 1 cup minced sun-dried tomato
• 4 oz crumbled Gorgonzola cheese
• 1/2 cup minced chives
• 2 TB steak sauce
• 1/3 tsp hot sauce
• 2 tsp Worcestershire sauce
• 1 tsp black pepper
• 1½ tsp salt
• 2 heaping teaspoons of Colman's dry mustard
• 12 hamburger buns
DIRECTIONS:
In a large bowl, mix the ground beef, sun-dried tomatoes, Gorgonzola, chives, steak sauce, hot pepper sauce, Worcestershire sauce, black pepper, salt, and mustard.
Cover and refrigerate for two hours.

Separate into 12 equal patties.

Grill to perfection.
Recipes and photos courtesy of Coleman's Mustard