CHIPOTLE CORN CHOWDER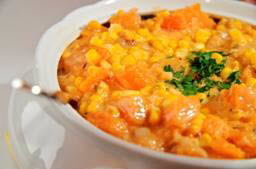 Prep Time: 15 Minutes
Cooking Time: 20 Minutes
Servings: 8-10

Ingredients
~ 3 tablespoons unsalted butter or vegetable oil
~ Flesh from a 3-to-4 pound pumpkin or butternut squash, cut into 1-inch cubes
~ 1 large onion, diced
~ 3 tablespoons all-purpose flour
~ 1 quart reduced-sodium College Inn® Chicken Broth
~ 1 can Del Monte® 50% Less Salt Whole Kernel Corn, drained
~ 2 chipotle peppers, roughly chopped
~ 1/2 cup heavy cream
~ 5 thyme sprigs
~ to taste salt
~ to taste black pepper, freshly ground
~ 1 small bunch cilantro, stems removed and leaves roughly chopped

Directions
1. Heat the butter or oil in a large pot over medium heat. Add the pumpkin and/or squash and onion and cook 5 minutes.

2. Add the flour and stir into the onion and pumpkin. Gradually add the chicken stock, stirring all the while. Add the corn, chipotle peppers, cream, and thyme and bring to a simmer.

3. Reduce the heat to low and simmer about 20 minutes, or until the pumpkin/squash is fork tender but not falling apart.

4. Remove from the heat and season to taste with salt and pepper. Stir in most of the cilantro leaves, reserving some for garnish.

5. Ladle the soup into serving bowls and garnish with the remaining cilantro leaves.
Photo: Bobby Maro Photography