CARAMELIZED ONION TOMATO FOCACCIA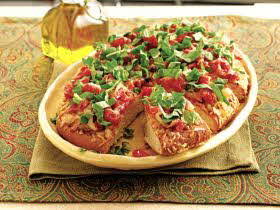 Quick and convenient, simply sprinkle shredded fontina cheese on prepared focaccia bread, top with Muir Glen Diced Tomatoes, onions sautéed in olive oil and butter and bake. Just before serving, top with chopped arugula, a drizzle of extra-virgin olive oil and freshly ground black pepper. This makes a great appetizer or served with seafood soups.
Prep Time: 20 Minutes
Start to Finish: 35 Minutes
16 servings
Ingredients
• 1 tablespoon olive oil
• 1 tablespoon butter
• 1 large onion, cut in half, thinly sliced
• 1 focaccia bread (10 to 12 inch)
• 1 cup shredded fontina cheese (4 oz)
• 1 can (14.5 oz) Muir Glen Organic diced tomatoes, drained
• 1/2 cup chopped arugula

Directions
1. Heat oven to 350°F. In 10-inch skillet, heat oil and butter over medium heat. Add onion; cook 8 to 10 minutes, stirring frequently, until onion is softened and light golden brown. The only trick to caramelizing onions is just be patient, cook slowly and stir frequently until they turn a light golden brown.

2. On ungreased cookie sheet, place focaccia. Sprinkle 3/4 cup cheese on focaccia. Top with onion and tomatoes; sprinkle with remaining 1/4 cup cheese.

3. Bake 10 to 15 minutes or until cheese is melted and bread is hot. Sprinkle with arugula.

Just before serving, top with a drizzle of extra-virgin olive oil and freshly ground black pepper.
High Altitude (3500-6500 ft): Bake 12 to 17 minutes.

Nutrition
1 Serving: Calories 130 (Calories from Fat 60); Total Fat 6g (Saturated Fat 2.5g); Cholesterol 10mg; Sodium 320mg; Potassium 80mg; Total Carbohydrate 15g (Dietary Fiber 0g); Protein 4g
% Daily Value: Vitamin A 2%; Vitamin C 0%; Calcium 6%; Iron 6%; Vitamin D 0%; Folic Acid 8%
Exchanges: 1 Starch, 1 Fat
Carbohydrate Choices: 1

Recipe courtesy of Muir Glen. Muir Glen is a Registered Trademark of Small Planet Foods, Inc.