Cantering Caterer Creative Holiday Ideas
Party Planner Extraordinaire Christian O'Dowd of Cantering Caterer Has One-of-a-Kind Holiday Entertaining Ideas Used by Celebrities and CEOs
(Recipe links included below in article)
Westport, Connecticut – When it comes to throwing the most unusual, elegant, and entertaining holiday party, no one has more innovative ideas than party planner extraordinaire Christian O'Dowd. In fact, Christian is considered one of the most creative and talented home entertaining experts in the industry.

Sought after by celebrities such as Paul Newman, Billy Joel, James Earl Jones, and Ertha Kitt, as well as CEOs of Fortune 500 companies including Pfizer, US Surgical, and other high profile people including one who is planning a $600-a-head Thanksgiving party, Christian's holiday entertaining ideas are unique and simple (anyone can do them) and include:
Ice Party for New Years Eve where the bar and glasses are made of ice, all served under a clear-top outdoor heated tent.

Ethnocentric parties where the foods and drinks are symbolic of your personality or heritage.

Color-themed parties such as a Red Party where Red Leaf and Walnut Salad in a Radicchio Cup, Plank Roasted Red Snapper with Pimento Pepper Coulis, and Red Velvet Cake with Raspberry and Apple Mint Sauce, among other red-inspired dishes, are served.

Christian's holiday food ideas are taste sensations and include: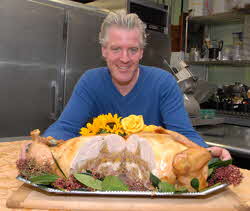 THE TURDUCKEN: Dating from the 1700s, when rich foods were de rigueur, Christian has revived the Turducken for today's adventurous cook. A Turducken is a chicken wrapped inside a duck wrapped inside a turkey with stuffing on each layer. Christian explains that the Turducken is actually the juiciest turkey you'll ever eat have due to the rich duck's fat seeping into the turkey that surrounds it. Christian's recipe for this moist, tender, flavorful concoction that cuts like a loaf of bread is easy to follow making this festive dish something anyone can create; and something everyone will remember eating!

Christian's creative holiday cocktails that look as wonderful as they taste include:
A delicious Pear-Infused Martini with an octagon-shaped honeycomb floating as the garnish served in an amber-colored martini glass. Christian says, "As the honeycomb starts oozing honey, each sip of the drink changes and becomes more powerful and delicious. And, be sure to serve the drink in a candlelit setting. The candlelight reflecting off of the amber-colored glass and the octagon honeycomb makes the drink look outrageously good. And, the color of the amber glass makes people's skin look younger and sexy."

"The Snowball" which looks like a snowball in a blizzard! The drink is made up of part vodka and part ice cider, which adds tastes of vanilla, silky honey, and a bit of oak to the drink. Ice cider originated in Quebec, Canada when apple pickers decided to let their apples hang late into the autumn, actually freezing them. Blend the vodka and ice cider until they are "slushy" and then pour into an ice martini glass available through www.icecaters.com. Garnish your "Snowball" with a lychee. Absolutely delicious, lychees are a small red heart-shaped Chinese fruit that is sweet and juicy and available in your local oriental market.

Courtesy of Christian O'Dowd of Cantering Caterer