Grand Prize Winner of Nordic Ware's Bundts Across America Contest
(Recipe below)
MINNEAPOLIS (November 14, 2007)
Anne Kornow from Dexter, Michigan captured the $10,000 grand prize for the "Bundts Across America" baking contest sponsored by Nordic Ware, creator of the Bundt pan. This year's contest theme was "Holiday Bundts, a pan for all seasons" and Anne Kornow created an original recipe that is melt-in-your-mouth-marvelous! For her winning Bundt cake, Anne also received a trip to New York City to sit in the audience of the Martha Stewart Show on November 15 during the 2nd Annual "National Bundt Day" celebration where she was recognized for her winning recipe.

The Recipe
Anne Kornow's winning recipe, "Mint Mountains" celebrates the holiday season using Nordic Ware's Holiday Tree Bundt Pan. The dense and decadent cake is a combination of white chocolate and chocolate fudge featuring a hint of mint. The pan showcases the cake's "mountain peaks" through a circle of "snow-capped" evergreen trees. Mint sprigs and crushed red peppermint candy garnish the cake which pleases both the eye and pallet!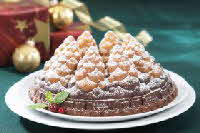 Christmas "Mint Mountains" Recipe
Baked in the Holiday Tree Bundt Pan
INGREDIENTS
• Shortening for greasing the pan
• 2 Tbsp flour, preferably Wondra
• ¾ cup shortening
• 1 ¼ cup granulated sugar
• 3 large eggs, separated
• 1 (3.9 oz) package instant white chocolate pudding mix
• 1 tsp peppermint extract
• ¾ cup sour cream or plain yogurt (6 oz)
• 2 cups all-purpose flour
• ¾ tsp salt
• 2½ tsp baking powder
• 1-cup milk, divided
• 4 ounces white chocolate chips or chunks
• 1/3 cup cocoa
• 1 (3.9 oz) package chocolate fudge instant pudding mix
• 8 ounces chocolate chips
Garnish:
• Confectioner's Sugar
• Mint sprigs or plastic holly sprigs (do not use real holly since holly berries are poisonous)
• Crushed peppermint candies

DIRECTIONS
Preheat oven to 350 degrees.

Prepare Holiday Tree Pan. Use pastry brush to thoroughly coat all parts of pan with shortening. Sprinkle flour evenly over top of shortening; invert pan and shake out excess.

Cream shortening and sugar in large mixing bowl until thoroughly blended. Separate eggs and reserve yolks. Add whites to shortening mixture and beat an additional two minutes or until light and fluffy. Beat in white chocolate instant pudding mix, peppermint extract, yogurt OR sour cream (mixture may look curdled).
Sift flour, salt and baking powder together. Slowly beat in about half of flour mixture, then ¾ cup milk, then last of flour mixture, scraping bowl after each addition. Increase speed and beat until thoroughly combined, 2-3 minutes.

Remove two cups of batter, stir in white chocolate chips or chunks.

Dollop white chocolate batter into pan. Do not try to make it smooth and even. Keep it unevenly distributed in peaks and on sides. Push gently up against sides. Add reserved yolks, cocoa; fudge pudding mix and additional ¼ cup milk to rest of batter in bowl. Beat until completely combined. Stir in chocolate chips.

Layer chocolate batter over top of white batter; push gently up against sides. Gently tap the filled pan on the counter a few times to remove air bubbles and pockets.
Baking instructions:
Place pan on cookie sheet. Bake in preheated 350-degree oven for 50-60 minutes or until wooden skewer inserted in center of cake comes out clean (do not use a metal skewer). Cool in pan ten minutes, shake pan from side to side to check for thumping or loosening from sides of pan. If needed, use a plastic knife to carefully loosen the cake from center and sides, if stuck. Invert onto cooling rack.

Serving recommendations:
When completely cooled, dust tops with confectioner's sugar. Place on platter and arrange sprigs and crushed candies around edge of platter at bottom of cake.

The Winning Pan
Anne Kornow used Nordic Ware's Holiday Tree Bundt Pan (SRP $35) to create the holiday tree shape of her winning cake. The pan's intricate detail comes complete with ornaments and a toy train to charm children and adults alike. This pan is part of Nordic Ware's platinum holiday bakeware collection, and is made of heavy cast aluminum.

The Judging
The panel of judges included Anita Chu, dessert aficionado and founder of Dessert First; Margo Murdock Murphy, the grand prize winner in the 2006 "Bundts Across America" contest; and Kathy Severson, Vice President Sales and National Sales Manager and a 29+-year employee of Nordic Ware.

After seeing and tasting so many Bundt cakes the judges had a hard decision to make but Anne Kornow's Mint Mountains clearly stood tall above the others. "This looks like a perfect snow covered forest, from layers of white and chocolate cake mimicking the coloring of a mountainside to the dusting of confectioner's sugar "snow"." Says Anita Chu, "Bundts Across America" contest judge. "I thought this entry best utilized the shape of the Bundt pan and captured spirit of the holiday best, as well as being fabulously delicious."
The Contest
Nordic Ware's search for the best Bundt in the land began in May and ended Sept 1. Nordic Ware announced state winners and 10 national finalists in October. Each national finalist received a $500 Nordic Ware gift certificate, and state winners received $100 certificates.

Smithsonian Exhibit
This summer, Nordic Ware donated several artifacts from its Bundt Pan collection to The Smithsonian National Museum of America History. A selection of the Nordic Ware collection was on temporary display in the museum's "Treasures of American History" exhibition at the Smithsonian's National Air and Space Museum through the end of August. The collection celebrates the Bundt Pan which is owned by one out of every two American households. Since its creation in 1950, the Bundt Pan has shaped meals, created traditions and become an heirloom to be passed down from generation to generation.

National Bundt Day
Nordic Ware, creator of the iconic Bundt Pan, is celebrating National Bundt Day on Thursday, November 15. This second annual celebration signifies the time just before the Thanksgiving holiday in which most of the baking that occurs for the year begins. Consumers will be reminded to get their kitchens ready for the holiday baking season by making sure they have their recipes lined up and most importantly, the proper tools to create their finest culinary delights, as well as the inspiration necessary to make it a social and family experience.

"Celebrating Over 60 years of American Made Traditions"
The Nordic Ware family has prided itself in providing long-lasting quality products, which will be handed down through generations. Their business is firmly rooted in the trust, dedication and talent of their employees, a commitment to producing quality American-made products, a desire to provide excellence in service to their customers and their never-ending search for innovative new kitchenware products.
Website: www.nordicware.com