Down the Shore for Jersey Grub
By Jennifer A. Wickes
Recipes below
Most people, when they hear of New Jersey, they think of the airport in Newark, crazy drivers, pollution, littering and obnoxious people. When my husband told us we were moving from California to New Jersey, I was actually excited. New restaurants. New grocery stores. What are Jersey people truly like? What fun can be had in New Jersey? Our California friends must have thought we had truly lost our minds. But...have you been to New Jersey?

Yes, you are right. It is the most congested state in the country with more people living per square mile than any other state. Yes, we live 10 miles from a nuclear plant. Yes, the driving is VERY assertive here. But did you know that New Jersey is very proud of their diners? We are the "diner capital" of the country AND the world. We have our own wine country. Yes, that's right! Blueberries are the state fruit. You haven't had tomatoes until you have had a Jersey tomato, which is our state vegetable. We grow corn, asparagus, peppers, pumpkins, strawberries...we are the Garden State.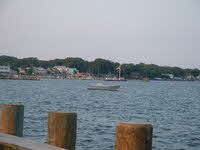 With populations hailing from Italy, Portugal, Mexico, Asia, India, the Middle East and Israel, we have a melting pot of flavors. PLUS, saltwater taffy was invented here in New Jersey in 1870!

We have excellent educational institutions: Princeton and Rutgers; and we rank in the top 10 for education in the country. We, also, do not need to get of our cars when we need gas, as there is someone to always pump it for you!

One of the top 10 most beautiful be aches in the country is right here at Long Beach Island. And in the summer, you would be shocked to know that so many people make New Jersey their vacation spot with all of our beaches!

I love to travel, and when I cannot travel, I like to create a weekend away in my own home. If you don't have the time or money to come to New Jersey, why don't you have an evening dedicated to all things New Jersey!
For movies, try watching Garden State, Jersey Girl, A Beautiful Mind (Widescreen Awards Edition), The Sopranos: The Complete First Season, or many more.
For music, if you are from Jersey, you are very proud of Bruce Springsteen, Bon Jovi, Frank Sinatra, Queen Latifah, Dionne Warwick and Whitney Houston.

With food, many of the children, in the neighborhood I reside in, go to the nearby river to go crabbing. You get these cages that open up when set down with a rope attached to it. Then you can put chicken pieces, or perhaps, chum and drop the cages off the pier. Soon, you will see quite a few air bubbles come up. If you pull up the rope, usually you can find a crab or two! Some people to the catch-and-rel ease system, while others take home the crabs and make dinner.
Famous food corporations base their homes in New Jersey: Campbell's Soup, Goldiva Chocolates (owned by Campbell's Soup), Astor Chocolate Company, M&M / Mars, and so many more!

Famous chefs that hail from New Jersey are: Tom Colicchio, cookbook author, restraunteur and host / judge to television fame, "Top Chef"; New York chef, cookbook author, restraunteur and television host at the Food Network, Bobby Flay used to spend his summers here on the shore; as well as, Martha Stewart hails from New Jersey.

Books or magazines that you may be of interest to you are: Garden Plate Magazine, New Jersey Countryside, Weird Nj, Jersey Diners, Food Lovers' Guide to New Jersey: Best Local Specialties, Markets, Recipes, Restaurants, Events, and More (Food Lovers' Series), The Jerse y Shore Uncovered: A Revealing Season on the Beach or perhaps you may enjoy New Jersey Curiosities: Quirky Characters, Roadside Oddities & Other Offbeat Stuff.

RECIPES:
NEW JERSEY CRAB CHOWDER
Yields: 8 servings

Ingredients
• 2½ pounds crab meat
• 10 ounces asparagus
• 2 cups fish stock
• 4 cups milk
• 1/2 medium onion, chopped
• 1/2 teaspoon garlic, minced
• 2 tablespoons flour
• 3 tomatoes, seeded and chopped
• 2 cups corn kernels
• 1 cup potato, diced
• 1½ teaspoons Old Bay Seafood seasoning
• 1/2 teaspoon thyme
• 3 bay leaves, whole
• salt and pepper, to taste
• 1 cup heavy cream
• 1 cup asparagus spear, cut in 1" pieces

Directions
1. Steam crab meat and chop. Set aside.

2. Clean the asparagus. Snap in half. Throw woody stem ends away and steam the tops until soft . Puree in a blender. Set aside.

3. Combine milk and fish stock in a medium pot. Bring to a boil over high heat.

4. In a stock pot, saute the onion and garlic until translucent. Create a roux by adding the flour. Stir until smooth, but light in color, then add the hot milk and fish stock.

5. Mix until smooth. Add the asparagus puree and mix thoroughly together.

6. Then, add the tomatoes, corn, potatoes, thyme, bay leaves, salt and pepper.

7. Bring to a boil, and simmer on low heat for 15 minutes.

8. Add the heavy cream, crab meat and some fresh asparagus spear. Heat for an additional 5 minutes. Remove bay leaves.
Serving Ideas:
Serve in a bowl (or sourdough bread boule) with croutons or oyster crackers and garnished with some fresh thyme, Tabasco Sauce or Outerbridge's Sherry Peppers.

RUSTIC JERSEY TOMATO TART
Yields: 8 servings
Ingredients
• 1 large egg, cold
• 1/3 cup all-purpose flour
• 1/3 cup cornmeal
• 1/4 cup unsalted butter, cold, cut into chunks
• 2 tablespoons basil, fresh
• 1 teaspoon dry white wine, chilled, approximately
• 1/2 cup pesto sauce
• 5 medium tomatoes, sliced 1/4" thick
• 1/4 cup Parmesan cheese, grated

Directions
1. When making the crust, place the egg, flour, cornmeal, butter, basil and 1/2 teaspoon of the wine in a food processor. Process the ingredients for 20 seconds. If the dough does not form into a ball, keep alternating 1/2 tsp. white and processing until a ball forms.

2. Place the dough on a lightly floured surface, and gently knead until the dough is smooth. Roll into a ball again, wrap in plastic wrap and chill in the refrigerator for an hour.

3. Preheat the oven to 375 degrees.

4. Lightly flour a surface, and begin to roll out the dough into a circle that is approximately 11 inches in diameter.

5. Place the dough in a 9-inch tart pan. Gently press the dough into the pan. Trim any excess pastry away from the pan's e dges.

6. Line the bottom of the tart with foil, and pour in about 3 cups of dried beans (or pastry weights).

7. Bake in the oven on the top shelf for 30 minutes.

8. Cool on a wire rack.

9. Reduce the oven temperature to 350 degrees, and move the shelf to the middle rack position.

10. Spread the prepared pesto over the bottom of the pan. Layer the tomatoes over the top of the pesto, overlapping your slices, slightly.

11. Sprinkle with grated Parmesan.

12. Bake 10 more minutes until the cheese melts.

JERSEY PEACH AND BLUEBERRY TART
Yields: 8 servings
Ingredients
• 1½ cups all-purpose flour
• 1/2 cup unsalted butter
• 1/2 cup cream cheese
• 3 large peaches, peeled, thinly sliced
• 1 cup blueberries, rinsed and drained
• 1/3 cup brown sugar
• 1/2 teaspoon cinnamon
• 1/4 teaspoon cardamom
• 1½ tablespoons cornstarch

Directions
1. Rub the butter and cream cheese into the flour. The mixture will be able to form a ball. Shape as such and wrap in plastic wrap. Chill for one hour.

2. Preheat oven to 375. Roll pastry onto a lightly floured surface to a 10-inch circle. Place into an 8-inch pie pan, an 8-inch tart pan or just place on a lightly greased baking sheet. Set aside.

3. Toss the fruit with the spices, sugar, cornstarch and orange juice. Arrange decoratively in the center of the crust. If using a cookie sheet (not the pie pan or tart pan) leave a 2-inch rim. Fold this over.

4. Bake for 30 minutes. Remove from the oven. Heat apricot jam in a small pot over low heat. Strain through a strainer, and spread apricot jam over the top of the tart.

Jennifer A. Wickes
Food Writer, Recipe Developer, Cookbook Reviews: www.gardenplate.com www.kiwimagonline.com www.libraryjournal.com www.foodreference.com