Bermudian Cuisine
By Jennifer A. Wickes
Recipes below
Imagine living on a semi-tropical island, where the hottest it gets is in the 80s, and the coldest is in the 50s. The sand is pink, and the coral reefs help create beautiful warm water. The smell of hibiscus flowers, ocean air and oleanders are everywhere. There's the sound of the kiskadee birds chirping, boat engines rumbling by, and the houses are made of limestone in pastel colors. There are small chameleons jumping around in your garden, and as the sun goes down, the tree frogs start singing! The people are very friendly and laid back. The food is fresh seafood, tropical fruits and European-style foods. Where am I talking about? Bermuda!

Bermuda is a small island approximately 700 miles off the coast of North Carolina in the Atlantic Ocean. It is a British colony with approximately 80,000 inhabitants. The island is 21 miles long and 1 mile wide at the widest point. Approximately 60% of the population is descendants of the slave trade from Africa, as well as Jamaica. Another 10% are Portuguese migrants from the Azores. The balance of the population is from England, Canada and some from the US.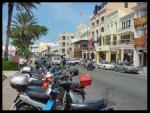 Because Bermuda's primary industry is tourism, there is a wide selection of cuisines available for the traveler; this coupled with the various cultural influences and the fresh seafood available, provide for an interesting mix.

Think of eating fresh Bermuda Rock Fish, perhaps their specialty the Guinea Chick (which is a miniature version of the lobster that lives in the Sargasso Sea).

I was fortunate to live in Bermuda in the 1980s. It was an experience I will never forget. The people are so friendly, and the island is so beautiful, it really is a wonder I did not stay!

If you are not fortunate to be able to travel and visit Bermuda, I suggest you read about it! Unfortunately, it is very difficult to find any cookbooks on Bermudian cuisine outside of Bermuda. I like to keep my eyes open to any Bermuda Cookbooks for sale on eBay!

RECIPES:
BERMUDA FISH CHOWDER - A Bermudian classic!
Yields: 24 servings
INGREDIENTS
• 4 ounces rum -- black
• 3 pounds fish -- with bones
• 3 ounces Worcestershire sauce
• 3 tomatoes -- chopped
• 1 cup onions -- chopped
• 2 ounces butter
• 1/2 teaspoon thyme
• 1/2 cup parsley
• 2 stalks celery
• salt and pepper
• 1 gallon water
• 2 ounces bacon
• 2 ounces corn flour
• 4 ounces tomato puree
• 1 bay leaf
• 1 onion

DIRECTIONS
1. Wash fish and place in a thick bottomed pan.

2. Add celery, parsley, whole onion and water. Bring to a boil and skim fat. Simmer 30 minutes.

3. Strain stock into a clean pan. Place fish on a a tray and keep in a cool place.

4. Melt butter in a thick bottomed pan, saute bacon, chopped onion and thyme 5 minutes.

5. Add tomato puree and fish stock.

6. Bring to a boil. Let simmer for 10 minutes.

7. Separate the meat from the bones.

8. Add the fish meat and the remainder of the ingredients.

9. Thicken the chowder with the diluted corn flour.

10. Correct the seasoning and colour. Colour can be rectified by adding gravy browning.

11. For each serving add: 1 tsp. rum & 2 dashes Bermuda sherry peppers.

Serving Ideas: Add some of Outbridge's rum and sherry peppers to this.

CASSAVA PIE
Christmas would not be the same without this recipe.
Yields: 12 servings
INGREDIENTS
• 6 pounds cassava
• 14 eggs
• 2½ cups butter -- softened
• 1 cup sugar
• salt
• pepper
• nutmeg
• cloves
• allspice
• 4 pounds chicken breast -- and thighs

DIRECTIONS
Boil chicken in a large pot with every kind of seasoning you have available! A couple of chopped carrots and stalks of celery will help make the broth rich and savory.

Debone chicken and reserve broth.

Mix cassava (that has been drained of its juices as much as possible), eggs and soft butter with your hands. Add sugar and a good pinch of all the spices and mix well.

In a large, well greased roasting pan, put in about 1 1/2 inches of the cassava mixture. Add the chicken in an evenly distributed layer. Yop with remaining cassava (another 1 1/2 inches) and prick with a fork. Then add about one cup of chicken broth and put in the oven at 350 degrees. This will require approximately 2 hours of cooking. Remember to baste with chicken broth every 1/2 hour. The pie is done when a knife inserted in the middle comes out clean.

DARK AND STORMY
A drink with a kick!
Yields: 1 serving

• 2 ounces Gosling's Black Seal rum
• 6 ounces ginger beer

Pour over ice.

LOQUAT CHUTNEY
Loquats grow everywhere in Bermuda. They are small pear-shaped fruit, that are yellow with orange coloring.
INGREDIENTS
• 1½ pounds loquats -- seeded
• 1 pound onion -- chopped
• 1/2 pound grated apple
• 1 pound sugar
• 2 teaspoons mustard
• 2 teaspoons salt
• 1 teaspoon curry powder
• 1 tablespoon molasses
• 1/4 teaspoon ginger
• 1 pint vinegar
• 2 cups water
• 1/4 cup raisins

DIRECTIONS
Wash, stone and cut up loquats into small pieces. Prepare apples and onions, Put all ingredients in a pot and boil gently until soft and a good colour. Pour into hot jars and seal.
*Unfortunately, not all of us have access to loquats. Try substituting this with half plums and half pears.

BACARDI RUM CAKE
INGREDIENTS
• 1 cup pecans -- chopped
• 1 18.5 oz. yellow cake mix
• 3¾ oz. Jell-O Instant Vanilla pudding
• 4 eggs
• 1/2 cup water -- cold
• 1/2 cup corn oil
• 1/2 cup Bacardi dark rum (80 proof)

• 1/4 pound butter
• 1/4 cup water
• 1 cup sugar
• 1/2 cup Bacardi dark rum

DIRECTIONS
Butter and flour a bundt pan.
Sprinkle the nuts on the bottom of the pan.

Mix all cake ingredients together.
Pour batter over nuts.

Bake 1 hour at 325 degrees.

Allow to cool.

While still warm, poke holes in the cake with a wooden spoon.

Using these ingredients: 1/4 lb. butter, 1/4 c. water, 1 cup sugar, 1/2 cup Bacardi dark rum, melt the butter, water and sugar together.

Bring to a boil for 5 minutes stirring constantly.
Remove from heat and stir in rum.

Place cake on a serving plate. Pour over the warm cake...make sure it seeps in the holes.

Decorate with grapes with dusted powdered sugar.
NOTES: Use walnuts instead of pecans.

MALASADAS
With a large migrant population from the Azores, these Portuguese doughnuts can be found and eaten for breakfast.
Yields: 24 doughnuts
INGREDIENTS
• 6½ cups all-purpose flour
• 1 envelope yeast
• 2 tablespoons sugar
• 1/2 cup warm water -- no higher than 110 degrees
• 6 eggs
• 1 cup sugar
• 1/3 cup milk
• 3 tablespoons butter
• 1½ teaspoons salt
• 3 tablespoons cooking oil
• fat -- for frying

DIRECTIONS
In a large bowl, stir together 1/2 cup of the flour, the yeast and the 2 tbsps. sugar. Add warm water; stir till smooth. Cover; let rise in warm place about 1 hour or till tripled in volume. In large mixer bowl beat eggs until fluffy; gradually add the 1 cup sugar, beating about 5 minutes or till thick and lemon colored.

In a small saucepan heat and stir milk till almost boiling; remove from heat. Add butter or margarine and salt, stirring till butter almost melts. Cool to lukewarm (115-120 deg. F). Rub the inside of a large bowl with some of the cooking oil. Pour in egg mixture.

Stir in yeast and milk mixture. Gradually add the remaining flour, stirring to combine. Mix thoroughly with hands. Add remaining oil. Continue kneading the dough in the bowl to work with the oil.

Knead about 5 min. more. Cover with clear plastic wrap, let rise in warm place 2-3 hrs. Punch dough down. For each doughnut, roll about 1/4 cup dough out on lightly floured cloth to 5-6 inch circle.

Fry, a few at a time, in shallow hot fat (375 deg. F) about 1-1/2 min. or till brown, turning once.
Drain on paper toweling. Roll in sugar if desired.

SHARK HASH
With the abundant seafood, Bermudians like to eat this dish too!
INGREDIENTS
• 1 shark -- cleaned
• 3 bunches parsley -- finely chopped
• 1/4 cup red bird peppers -- finely chopped

DIRECTIONS
Wash shark and liver. Remove small green gall from liver as this is bitter. Fry liver over very low heat to extract oil.

Remove head and fins. Cut shark into steaks. Bring to boil in a large pot. Boil for approximately 20 minutes. Let cool.

When shark is cool, remove skin and cartilage, squeeze out water with hands or cloth.

Cook parsley in liver oil, approximately 10 minutes, add peppers and shark, continue to cook over low heat approximately one hour.
Helpful Hint:
You may choose to vary the amount of oil used according to personal preference and liver quality.
Allow 3 - 4 hours to prepare shark.

As the liver has an unpleasant smell, it is a good idea if you have an electric fryer and extension cord to place the liver and fryer outside, cover and leave to cook.

Shark freezes very well.
Serving Ideas: Serving Suggestions: Add a touch of mayonnaise for spreading on crackers - great with cocktails, on toast or out of a small bowl.

SHERRY PEPPERS
This and Rum Peppers are a favorite for Bermudians! Use like Tabasco.
• red bird peppers, Thai chiles
• sherry
It is very simple - just fill a jar or decanter half full of red bird peppers and fill up with sherry. Keep adding sherry as needed.

This should be made a head of time, so that it may sit for several weeks in order to obtain that zing all Bermudians love.

Serving Ideas: Add several drops to fish chowder or eggs.

PAWPAW MONTESPAN
In Bermuda, unripened papayas are called pawpaws.
INGREDIENTS
• 4 green pawpaws -- skinned and diced
• 1 tomato -- thinly sliced
• 1 Bermuda onion -- thinly sliced, fried
• 1/2 pound ground round -- browned and drained
• grated cheddar cheese

DIRECTIONS
Cook pawpaws until tender. Mash and put a layer into a greased baking dish. Cover with a thin layer of tomatoes, then meat and onion, then cheese. Repeat these layers until all ingredients have been used. Finish with pawpaw, sprinkle with cheese. Cover with bread crumbs. Bake at 350 degrees for 40 minutes.