Quick, Healthy & Affordable Tuna Salad Recipes
No-Cook Summer Lunches with Albacore Tuna
Keep your cool during the dog days of summer with these fast, easy and affordable meals' no cooking required!

The last place you want to be is cooking over a hot stove. Don't run out to the drive-thru just yet, you can still whip up affordable and healthy meals with products you can find right in your pantry!

Give your oven a summer vacation too and check out these no cook noshes that will keep your family happy and your kitchen cool.


RECIPES
NUTTY ALBACORE SALAD PITA

Prep Time: 10 Minutes
Cooking Time: 0 Minutes

Ingredients:
• 1 (2.6-oz.) pouch or 1 (5-oz.) can StarKist Albacore Tuna (if using cans, drained and chunked)
• 1/3 cup Celery, diced
• 1/4 cup Walnuts, pecans, or almonds, chopped
• 1/2 cup Mayonnaise
• 1/4 cup Raisins or 1/2 cup grapes, halved
• 1/2 tsp. Dried dillweed
• 2 Pitas, halved
• To taste Salt and pepper
• Curly-leaf lettuce leaves

Directions:
In a medium bowl, combine tuna, mayonnaise, celery, raisins, nuts, and dill; mix well.

Add salt and pepper.

Line each pita pocket with leaf lettuce; fill with 1/4 tuna mixture.


ALBACORE WALDORF SALAD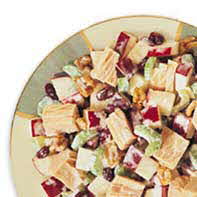 Ingredients:
• 1 (6.4-oz.) pouch or 2 (2.6-oz.) pouches or 2 Cans (4-oz.) StarKist Albacore Tuna (if using cans, drained and chunked)
• 2 tbsp. Lemon juice
• 1/3 cup Raisins
• 1/2 cup Mayonnaise
• 1/4 tsp. Ground cinnamon
• 3 apples, medium, cored, and cubed
• 1 cup Celery, chopped
• 1/3 cup Walnuts or pecans, chopped
• 1/4 cup Milk
• To taste Sugar (optional)


Directions:
In a large bowl, toss together apples and lemon juice.

Add celery, raisins, walnuts, and tuna; toss gently.

In a medium bowl, combine mayonnaise, milk, and cinnamon; blend well. For a sweeter dressing, add sugar.

Pour dressing over apple-tuna mixture; toss gently to coat.


**If you are looking for a no-cook/no-prep meal on-the-go check out the new StarKist Tuna Salad Sandwich-Ready Pouch - shelf stable, no draining or mixing required and only 100 calories or less per pouch! For more easy recipes visit www.StarKist.com.