GRILLING PERFECT TILAPIA
See also: Tilapia Article; Tilapia Recipes
Grill Perfect Fish Every Time With These Simple Tips
Recipe & photo below
Grilling fish doesn't have to be intimidating if you master two basic skills: preventing the fish from sticking and knowing when it's cooked through.

Follow these easy techniques compliments of chefs from Regal Springs Tilapia to make your grilled fish perfect each time. And keep reading for a delectable recipe for Grilled Tilapia with Fresh Tomato Relish!
FABULOUS FISH GRILLING TIPS
• The Right Cut: Select the thickest cut you can to avoid breakage when you turn the fish. If one part of the fish is much thicker than the other, consider cutting uneven filets into two to avoid drying out the thinner portion. Cook the thicker half first, and when it's halfway cooked, put the thinner half on.

• Prevent Sticking: Achieving a non-stick cooking surface is critical and is a two-part process: First oil the grill, then oil the fish.
Oil before you light the grill: Spray a light coat of non-stick cooking spray on the grate or wipe a light coat of vegetable or olive oil directly on the grate with a paper towel. Never spray non-stick spray on a grate if the fire is lit.
Oil after the grill is lit: This technique is preferred over oiling the grill before it's lit since heating and then oiling is key to getting those spiffy grill marks seared into the fish. Start with a very hot grill. Brush briskly with a wire brush. Oil the grate by tightly folding a paper towel and dipping it in vegetable oil. Protect your hands from the heat by using tongs to grip the oiled paper towel as you rub it across the grate.
Oil the fish, too: Lightly brush both sides of the fish with olive, vegetable or sesame oil. Take caution to not over-oil, though, which leads to flare-ups and sooty residue.
• It's All In The Presentation: For professional-grade crosshatches, turn the fish a quarter turn after 2 minutes on the grill.

• Prevent Breakage: Do not flip the fish repeatedly, and do use a wide-headed spatula. You can tell when filets are ready to flip when edges are flaky and opaque.

• Check for Doneness: The meat is done when the meat is opaque all the way through and the juices run clear. If any part of the meat is still glossy and partially translucent, it's not done. Remember, too, that fish continues to cook a little after it's removed from the grill.
GRILLED TILAPIA WITH TOMATO BASIL RELISH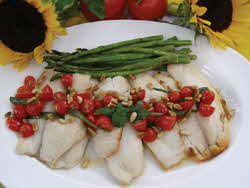 Ingredients:
• 4 (6 oz.) Regal Springs tilapia filets
• 3 medium red onions
• 4 cups cherry tomatoes
• 2 lemons
• 2 cups of fresh basil
• 1 cup of pine nuts
• 1/3 cup extra virgin olive oil
• 4 tbsp. sweet balsamic vinegar
• Salt and pepper

Directions:
• Preheat grill to medium high heat.

• Prepare the tomato relish by slicing tomatoes in half. Wash and pat dry the basil leaves and slice into 1-inch thin strips (removing tough center vein). Toss the tomatoes, 3 tbsp. of the olive oil and basil. Add salt and pepper to taste. Toss again and set aside.

• Toast the pine nuts by placing in a frying pan over medium high heat and tossing until golden brown–this happens quickly so tend to them carefully. When toasted, set aside to cool.

• Prepare the onions for grilling by slicing into 1 inch slices and brushing each side with olive oil, salt and pepper. Prepare the tilapia in the same way with the addition of a squeeze of lemon juice.

• Place onions on the grill first and cook the slices until golden charred and soft (depending on the heat of the grill, about 8 minutes). Turn carefully so onion does not fall apart. (Onions can be cooked in tin foil as well).

• Wrap tilapia filets in tin foil and seal tightly. Place on hot grill and cook 3-4 minutes each side until tender.

• Arrange the grilled onions and tilapia filets on a platter–tilapia in the center and grilled onions around the edge of the platter. Pour the tomato relish over the fish.

• Squeeze fresh lemon and balsamic vinegar over the entire mixture and top with toasted pine nuts. Sprinkle with salt and pepper and serve.

Recipe courtesy of Regal Springs Tilapia ( www.RegalSprings.com )