California Avocados Are In Season
.....And At Their Freshest
California Growers Share their Stories and Delicious Avocado-Inspired Recipes
Recipes below
Summertime marks the peak of California avocado season, when this premium fruit is readily available. Straight from the lush groves of California farmers, now is the perfect time to savor delicious California avocados.

Ninety percent of the nation's avocado crop is grown in California by approximately 6,000 farmers who nurture, plant and harvest their trees by hand. Some growers were born into this life, carrying on a family tradition that is more than a century-old. Others only recently found their life's passion while tending a thriving grove. While each avocado grower's story is different, the commitment to quality can be seen and tasted in the fruit that is produced.

The Abbott family has decades of experience growing avocados in California. On their farm in Carpinteria, Calif., they strive to work with nature, rather than against it. Third-generation farmer Duncan Abbott and his son, Robert, have been practicing sustainable farming for years, creating more energy on their ranch than they consume. Avocados are hand-pruned, hand-picked and hand-packaged to limit the use of heavy machinery and a solar panel powers the Abbott's house and barn to conserve energy. The Abbotts' trees are grown in all-natural compost and fish oils are used in place of insecticides.

"Laying the groundwork for sustainable farming can be costly, but the worth of preserving the bountiful land we live and farm on is invaluable," explains Duncan Abbott. "We hand-grow our California avocados using practices that help ensure that the Earth will stay lush and fruitful for many generations to come."

At the age of 73, Duncan still tends to the groves. A former investment banker, he decided long ago to trade his high-profile lifestyle for the satisfaction of being part of the family business, farming California avocados. He has passed his deep appreciation for the land on to his son, Robert, who is an avid environmentalist.

Pairing environmental activism and farming, Robert has merged two worlds that traditionally hold conflicting interests. The innovative farming practices that have resulted from this pairing have set a pioneering example for growers nationwide.

While avocado farming runs deep in the Abbotts' veins, it is a relatively new venture for the Bruce family, who recently fulfilled their lifelong dream of running a farm in California. Developers by trade, Mark and Linda Bruce discovered that a plot of land they had purchased for real estate development in Simi Valley was ideal for growing avocados. Although the couple didn't have the knowledge of how to farm avocados, the Bruces decided to seize the opportunity to realize their dream of raising their family on a farm. In 1999, they planted their first 10 acres of avocado trees, proud to officially become California avocado farmers.

"From floods, to fires and freezes, starting the farm was certainly not easy, but the unbelievable memories that our family has formed watching the young avocado seedlings grow into maturity as our two children played among the trees are precious," recounts Mark Bruce. "We now have 65 acres planted that we hope to eventually pass on to our children, so that they can share our passion for producing premium quality California avocados."

With California avocados now in season, it is the ideal time to enjoy this delicious fruit, hand-grown by farmers like the Abbotts and Bruces. Both the Abbott Family Gazpacho with California Avocado recipe and the Bruce Family California Avocado and Smoked Salmon on Homemade Bagel Chips with Wasabi Cream recipe are straight from the farms of California avocado growers and are meant to inspire consumers with new ideas on how to savor this premium fruit. More recipes featuring California avocados can be found at www.CaliforniaAvocado.com.

RECIPES
Abbott Family Gazpacho with California Avocado Recipe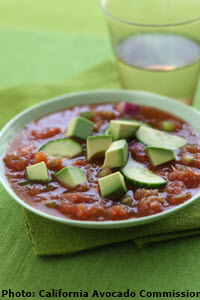 Serves: 4
Prep Time: 25 minutes

Ingredients
• 2 cups fat-free beef broth
• 1/2 cup fresh lemon juice
• 2 Tbsp. olive oil
• 10 Roma tomatoes, chopped
• 1 1/2 large green bell peppers, chopped
• 1 small red onion, chopped
• 1 Tbsp. paprika
• 1 clove garlic
• 1 tsp. kosher salt
• 1/2 tsp. ground black pepper
• 1/2 hot house cucumber, peeled, cut in half lengthwise and thinly sliced
• 1 ripe, fresh California avocado, seeded, peeled and cut into 1-inch cubes


Instructions
1. In a blender or food processor, add broth, juice, oil, tomatoes, peppers, onion, paprika, garlic, salt and pepper. Pulse until mixture is slightly chunky; it should not be completely smooth.

2. Pour mixture into a bowl and chill until ready to serve.

3. To serve, ladle soup into bowls and top with cucumber and avocado.

Nutrition Information Per Serving:
Calories 220; Total Fat 15 g (Sat 2 g, Trans 0 g, Poly 2 g, Mono 10 g); Cholesterol 0 mg; Sodium 1050 mg; Total Carbohydrates 20 g; Dietary Fiber 7 g; Protein 6 g

Bruce Family California Avocado and Smoked Salmon on Homemade Bagel Chips with Wasabi Cream Recipes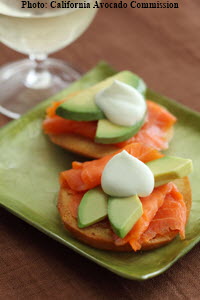 Serves: 4
Prep Time: 25 minutes
Cooking Time: 10 minutes
Total Time: 35 minutes

Ingredients
• Homemade Bagel Chips (see make-ahead recipe below)
• 1 (8 oz.) package thinly sliced smoked salmon
• 1 ripe, fresh California avocado, seeded, peeled and cut into 1/4-inch slices, each slice halved
• Wasabi Cream (see make-ahead recipe below)


Instructions
1. Arrange salmon slices on each Homemade Bagel Chip. Top each with two halved slices of avocado.

2. Place a dollop of Wasabi Cream on avocado slices and serve.


Homemade Bagel Chips

Ingredients
• 3 Tbsp. butter, melted
• 2 cloves garlic, finely chopped
• 4 plain mini bagels, cut lengthwise into thin slices


Instructions
1. In a small bowl, combine butter and garlic. Generously brush onto each bagel slice.

2. Place a cooling rack on a cookie sheet. Arrange bagel slices on cooling rack. Bake in preheated 375°F oven for 10 minutes or until crisp. Remove from oven; set aside.


Wasabi Cream Recipe

Ingredients
• 1/4 cup whipping cream
• Wasabi paste, to taste

Instructions
1. In a small bowl, whip cream until slightly thick. Add wasabi paste, to taste. Whip cream until it forms a soft shape; set aside.

Tip: For ease of slicing, purchase uncut bagels.

Nutrition Information Per Serving:
Calories 560; Total Fat 25 g (Sat 10 g, Trans 0 g, Poly 1.9 g, Mono 9.2 g); Cholesterol 55 mg; Sodium 970 mg; Total Carbohydrates 65 g; Dietary Fiber 6 g; Protein 23 g

* Large avocados are recommended for these recipes. A large avocado averages about 8 ounces. If using smaller or larger size avocados adjust the quantity accordingly.

About the California Avocado Commission
Based in Irvine, Calif., the California Avocado Commission was created in 1978 to develop markets for and increase consumption of California avocados on behalf of the state's 6,000 avocado growers. The California Avocado Commission serves as the official information source for California avocados and the California avocado industry.