Seafood Future:
Cobia and Pompano on Inland Fish Farms?
People who know seafood know that cobia and Florida pompano are among the world's best. Found in the warm waters off the Atlantic and Gulf coasts, these saltwater superstars are prized for both commercial and sport fishing. Pompano and cobia have firm, mostly white flesh that's perfect for grilling, pan-frying, or baking. Some people find that pompano has a pleasing, slightly sweet note.

Pompano is flat and silvery, and looks something like sunfish. Cobia is long and sleek, with a silver stripe on its dark-grey sides. Both of these scrumptious seafarers command premium prices - sometimes as much as $30 a pound filleted.

Someday, pompano, cobia, and other marine finfish might be commonly raised inland, hundreds of miles from the nearest ocean or bay, in huge tanks of fresh or only slightly salty water. The tanks are part of what's known as a "recirculating aquaculture system," or "RAS," in which water is cleaned and used again and again.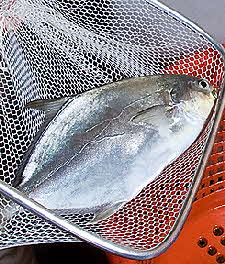 These systems, in which water is cleaned and used again and again, are referred to as "closed" because they're almost completely self-contained. They offer the potential to reduce discharge of everyday fish-farm effluent to as little as 3 percent or less of the total amount of water used each day. All the effluent could be treated to make it suitable to apply on land (if it's freshwater) or to artificial saltwater marshes (if it's low-salinity wastewater).

The fish waste and unused food collected in the system's filters could be used as nutrient-rich compost or perhaps for generating methane.

But before these low-salinity farms for seafood can become a reality, much more remains to be discovered about the needs of the saltwater fish that would be reared in them. In addition to figuring out the biological realities of raising these fish, there's a myriad of engineering details to be worked out. After all, the RAS technology was designed for freshwater - not saltwater - fish farms. For example, some of today's RAS filtering technology is about 30 percent less efficient in handling seawater than freshwater.

In an experiment with 2,400 juvenile pompano, the scientists showed that it's indeed possible to raise this oceanic species - from juvenile to market size - in water that's only slightly salty.
In this case, the water had a salinity of only 5 parts per thousand, as compared to the 35 parts per thousand in most oceans. Now the scientists want to make the system practical, profitable, and energy efficient for all stages of inland, low-salinity production of cobia and pompano.

There's an additional twist to the engineering and design research: The water-quality requirements of each species may differ, and what works to keep one species healthy and fast growing might not succeed with another. That means the components, or combinations of components, may have to be customized.

Much remains to be learned about the fish and the recirculating systems. And even when the technology is ready to use, no one can predict how long it will then take before inland farming of seafood - in these recirculating tanks - becomes as common as on-land farming of rainbow trout or catfish. For people living far from the sea, who'd like to be able to buy fresh, locally raised seafood at their neighborhood supermarket, environmentally responsible inland mariculture simply can't happen soon enough.

—By Marcia Wood, Agricultural Research Service Information Staff.

Read more about their research in the February 2009 issue of Agricultural Research magazine, available online at:
http://www.ars.usda.gov/is/AR/

ARS is the principal intramural scientific research agency of the U.S. Department of Agriculture.