HEALTHY SUPER BOWL RECIPES
Super Bowl parties can tackle even the strongest person's New Year's resolution to eat healthier. The typical menu includes fried, greasy, fatty foods, but luckily, you won't have to put your diet on the back-burner this year.

Chef Chris Malon has prepared recipes that will satisfy your taste buds, without turning you into a 300-pound linebacker by halftime. Dishes include Third & Long Onion Dip, End "Zone" Chili and Game Day Nachos.
(Recipes from Zone Delivery USA)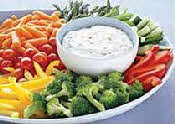 THIRD & LONG ONION DIP RECIPE
Ingredients
• 2 cups organic low-fat yogurt
• 1 cup soy-based mayonnaise alternative
• ½ cup minced celery
• 2 tablespoons minced fresh chives
• 2 tablespoons minced onion
• 2 teaspoons onion powder
• 2 tablespoons minced fresh parsley
• ¼ teaspoon freshly-ground pepper
• ¼ teaspoon finely ground sea salt, or to taste

Directions
Combine all ingredients in a bowl.

Stir or whisk until blended, then cover and refrigerate until serving.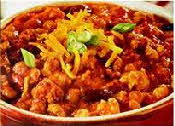 END "ZONE" CHILI RECIPE
Ingredients
• 1 1/3 teaspoons olive oil
• ¾ cup chopped onion
• 1 med green bell pepper, seed & chop
• 1 teaspoon chili powder
• ½ teaspoon ground cumin
• ¼ teaspoon sea salt
• ¼ teaspoon garlic powder or 1 clove garlic chopped
• 1 cup 99% lean turkey meat
• ½ cup water
• 1 cup crushed tomatoes
• ¼ cup kidney beans (drained and rinsed)
• 2 ounces low-fat grated cheddar cheese

Directions
In large non-stick sauté pan, heat oil over medium heat.

Sauté onion and green pepper in oil for five minutes or until onion turns translucent.

Add chili powder, cumin, salt, and garlic powder. Cook another two minutes.

Add turkey meat and water. Stir in tomatoes and kidney beans. Cover and simmer 10-15 minutes to blend flavors.

Sprinkle grated cheese upon serving.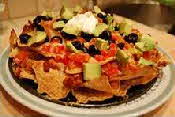 GAME DAY NACHOS RECIPE

• 2 oz. shredded cheddar cheese
• 1 oz. corn chips
• 5 tbsp. bean dip
• 1 tbsp. guacamole
• Optional: Jalapeño Pepper - slices

Directions
Arrange the chips on a baking sheet pan.

Spoon bean dip chip, then sprinkle cheddar cheese

Bake Chips at 350 degrees for give minutes

After baking, top with guacamole

Garnish with jalapeño pepper slices, if desired.

(Recipes from Zone Delivery USA)
-------