Holiday Turkey Rub And Carving Tips
Keep Your Turkey Simple This Holiday Season With Easy Rub Recipe And Carving Tips
Turkey Rub Recipe Below
Avondale, PA; October 20, 2008—Creating a delicious centerpiece for the holiday festivities should not be a monumental task that takes away time spent with friends and family. "Great food is simple to prepare," says cookbook author and New York Times "The Minimalist" columnist Mark Bittman. "Plan your holiday so you can enjoy it—keep it simple to keep it fun. Delicious can be easy".

Bittman and ChefsChoice team up this holiday season to share basic turkey preparation and carving tips and a simple rub recipe for a tasty turkey worthy of holiday fanfare.

Carving Your Turkey
"Carving the bird properly is an important step to your holiday centerpiece." says Bittman. Two common mistakes people make after cooking their turkey are not waiting long enough for the bird to rest after it comes out of the oven (if you slice too soon, most of the juices will run out and meat will dry) and improperly carving by using a dull knife or the wrong technique. Try these steps to serve up a tasty and elegantly carved turkey: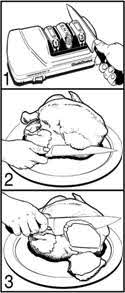 Step 1: Be sure to use a good, sharp knife. Sharp knives are not only safer, they will help you smoothly cut thin, even slices without shredding the meat. Fortunately, you don't have to be an expert to put a razor sharp edge on your knife. A sharpener such as the Chef'sChoice® Professional Sharpening Station™ 130 can make sharpening easy. The first stage, using 100% diamond abrasives sharpens the edge; the second stage uses a super-hardened miniature steel and the third stage features a flexible stropping disk to polish the edge to hair-splitting sharpness. This stage is also used for sharpening serrated knives. For help finding a sharpener that's right for you, call (800) 342-3255.

Step 2: After the turkey is cooked (meat thermometer should read 165-180°F when inserted in the thickest part of the turkey) cool the bird for 15 minutes. Cooling makes the meat firmer and easier to slice. Remove and set aside the turkey legs and the last joint of each wing. Make a long, deep (to the bone) horizontal "base cut" into the breast just above the wing.

Step 3: Slice down vertically through the breast until you meet the original base cut. This will release perfect, even slices.

Bittman's Jerk Seasoning Turkey Rub
(Makes ¼ cup for 10-12 lb. turkey)
INGREDIENTS

• 1 tbsp. all spice berries or powder
• ¼ tsp. nutmeg
• 1 tsp. black peppercorns
• 2 tsp. dried thyme
• 1 tsp. cayenne pepper or to taste
• 1 tbsp. sugar
• 2 tbsp. salt
• 2 tsp. minced garlic
• 2 tsp. fresh ginger or 2 tsp. ground ginger

If using fresh allspice berries, nutmeg pieces, peppercorns and thyme, blend in spice or coffee grinder then add the rest of ingredients. Otherwise mix all and rub evenly over bird and under skin of breast.

DIRECTIONS
Make sure the turkey is thoroughly defrosted before starting. Preheat oven to 350° F. Place bird in large roasting pan on a V-shaped or flat rack. Brush the turkey with tablespoon of butter or olive oil. "The key to a great tasting turkey is to add fat, it will look and taste better," says Bittman. Before adding rub, lift the breast skin up and rub oil or butter directly on meat, then rub entire bird with your fat of choice. Repeat process with Bittman's rub. Pour in one cup of stock or water in roasting pan.

Cover the turkey loosely with aluminum foil (remove foil after about one hour of roasting time remains). Roast, basting with additional butter or oil every 30 minutes and add stock or water as needed to keep bird moist. When there is one hour of cooking time to go (internal temperature of turkey will be about 125ºF), remove foil and turn oven heat up to 400 ºF for the remaining cooking time.

When the bird is done—an instant-read thermometer should read at least 165º F when inserted in mid-thigh. Remove the bird to a platter and let it rest for 15 minutes before carving.

Now you're ready to serve your delicious and properly carved turkey. Happy holidays and feasting!