AUTHENTIC RECIPES SERVED ON THE RMS TITANIC
The RMS Titanic was the largest passenger steamship ever built when she left on her maiden voyage from Southhampton, England to New York on April 10, 1912. Four days later the Titanic struck an iceberg and sank in less than 3 hours. Of the 2,227 people onboard, only 710 survived.
The Recipes below are courtesy of: Titanic: The Artifact Exhibition at Luxor Hotel & Casino in Las Vegas, Nevada.
The 25,000-square-foot exhibit features numerous items from the Titanic, including luggage, the ship's whistles, floor tiles from the first-class smoking room, a window frame from the Verandah Cafe and an unopened bottle of champagne with a 1900 vintage. In addition, the exhibit features a piece of Titanic's hull, a full-scale re-creation of the Grand Staircase as well as a newly expanded outer Promenade Deck, complete with the frigid temperatures felt on that fateful night of April 14-15, 1912.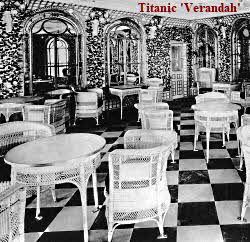 These actual artifacts, recovered from two and one half miles below the surface of the North Atlantic, tell the story behind the legendary Titanic's short journey from construction and destruction to eventual recovery. Walk her decks, peer into her cabins and meet her passengers and crew.
'Titanic: The Artifact Exhibition' at Luxor Hotel & Casino in Las Vegas wants to thank the thousands of Exhibition guests that have taken time to commemorate the Ship's passengers and offer a way to bring the experience home. Recreate history and experience some of the opulence of 1912 with the below authentic recipes that were served on the luxurious Ship of Dreams.
RECIPES -
Authentic recipes that were served on the luxurious Ship of Dreams:
THIRD CLASS: VEGETABLE SOUP
Makes 6 servings.
INGREDIENTS
• 2 tbsp butter
• 1 finely chopped onion
• 1 cup each sliced celery and carrot
• 1 potato, peeled and cubed
• 5 gloves garlic, minced
• 1 tsp each dried oregano and thyme
• 1 bay leaf
• 6 cups chicken or vegetable stock
• 2 cups white kidney beans, drained
• 1 cup corn kernels
• 1 cup asparagus tips
• 2 cups shredded Swiss chard (or spinach)
• Salt & pepper
DIRECTIONS

In large pot, melt butter over medium heat. Stir in onion, celery, carrot, potato, garlic, oregano, thyme, and bay leaf. Cover and cook, stirring often, for 10 minutes or until onion is translucent.

Stir in stock and bring to a boil. Reduce heat to medium and simmer for 15 to 20 minutes or until vegetables are almost tender.

Meanwhile, drain and rinse beans. Stir beans, corn, and asparagus into vegetable mixture. Cook for 5 min¬utes or until asparagus is bright green and tender. Stir in Swiss chard (or spinach) and season to taste with salt and pepper.

FIRST CLASS: ASPARAGUS SALAD WITH CHAMPAGNE-SAFFRON VINAIGRETTE
Makes 6 servings.
INGREDIENTS
• ½ lb asparagus
• ¼ tsp saffron threads
• 1 ½ tbsp champagne vinegar or white wine vinegar
• ½ tsp Dijon mustard
• Pinch granulated sugar
• 3 tbsp extra virgin olive oil
• Salt & pepper
• ½ sweet red or yellow pepper, finely diced
• Lettuce

DIRECTIONS

Holding asparagus halfway up stalk, snap off woody ends at natural breaking point and discard. In wide, deep skillet or large pot of boiling salted water, cook asparagus for 3 to 5 minutes or until tender but not limp. Drain and run under cold water until completely cooled; drain well.

Meanwhile, in large bowl, stir saffron into 1 tsp boiling water; let stand for 2 minutes or until softened. Stir in champagne vinegar, mustard and sugar. Whisking, drizzle in olive oil. Season with salt and pepper to taste. Add asparagus and diced pepper; toss to coat. Arrange on lettuce-lined serving platter.

THIRD CLASS: CURRANT BUNS
Makes 12 buns.
INGREDIENTS
• ¼ cup lukewarm water
• ½ cup granulated sugar
• 1 pkg active dry yeast (1 tbsp)
• 3 ½ cups all-purpose flour
• ½ tsp salt
• ¾ cup warm milk
• ¼ cup butter, melted
• 2 eggs
• ½ cup currants (or raisins, chopped dates, or other dried fruit)
• 2 tbsp icing (powdered or Confectioners') sugar
• 1 tbsp water
DIRECTIONS

In a small bowl or measuring cup, combine warm water and 1 tbsp of the granulated sugar; sprinkle yeast over top. Let stand for 10 minutes or until frothy.

Meanwhile, in large bowl, blend together remaining sugar, flour, and salt. In small bowl, whisk together milk, butter, and eggs. Stir in yeast mixture until combined.

Make well in dry ingredients; using wooden spoon, stir in yeast mixture until soft dough forms. Turn out onto lightly floured board. Knead for 8 minutes or until dough is smooth and elastic.

Transfer dough to large, greased bowl, turning to coat. Cover with plastic wrap and let rest in a warm place for 1 hour or until doubled in bulk. Punch down; turn onto floured surface; kneed in currants (or substitute). Shape into a 12-inch long log. Cut dough into 12 equal pieces.

Roll pieces of dough into smooth, seamless balls. Place buns on greased baking sheet leaving about 2 inches between each bun. Cover loosely and let rest for 30 minutes.

Bake in 400ºF oven for 15 minutes or until golden brown. Stir together icing sugar and water; brush over warm buns; let cool on rack.

(Also visit the Titanic Historical Society website: www.titanichistoricalsociety.org/ for additional information on the Titanic and links to other Titanic resources).