SHARP IDEAS IN TURKEY PREP
Prepare a delicious juicy turkey centerpiece this holiday season with tips from from renowned Chef Michel Richard, cookbook author and owner and executive chef of Washington DC's highly acclaimed Citronelle. His creative seasoning and proper cooking techniques coupled with carving tips from Chef'sChoice will guarantee you a feast that is sure to be gobbled down by family and friends.

Richard's Double Baked Turkey Vegetable Herb Under-Skin Rub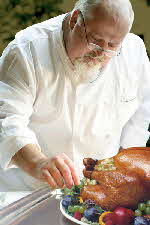 Ingredients
• 12-14 pound turkey
• 1/2 cup + 1 tablespoon butter
• 1 small yellow onion, peeled, diced
• 4 shallots, diced
• 4 green onions
• 4 garlic cloves
• 1/2 bunch parsley leaves, washed chopped very thin
• 1 stalk celery, sliced 1/4" thick
• 4 slices country bread
• 1 stick butter, melted

Directions:
Sauté the onion and shallot in 1 tablespoon butter for 5 minutes until soft and slightly colored. Add the green onion, and grate garlic into the pan, then cook for 30 seconds until you smell the fragrance of garlic. Cool to room temperature. Mix in bowl with ½ cup soft butter, plus the parsley and celery. Season with salt and pepper.

Lift up the skin of the turkey and spread vegetable paste under the skin. Set the oven at 275°F. Generously soak 4 slices of bread in melted butter until butter is completely absorbed into bread. Season the turkey with salt and pepper.

Place bread slices over the breasts. In the oven, the bread will dry and shrink, self-basting the (over)butter into the turkey. Cook 3 ½ hours until the inside temperature is 130°F. Take the turkey from oven. Remove the bread and set aside. Cool turkey slightly by leaving out of the oven for one hour. Reset the oven to 350°F. After cooling, return the turkey to the oven and roast for another ½ hour until golden brown and crispy.

CARVING TIPS: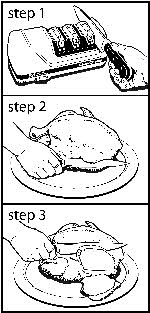 After the bird is cooked, the next steps are equally important. The two common mistakes that people make after cooking their turkey, is not waiting long enough for the bird to rest after it comes out of the oven and improperly carving it by using a dull knife or the wrong carving technique.
If you slice the turkey too soon, most of the juices will run out and your meat will be unnecessarily dry. And, if you carve improperly or use a dull knife, not only will carving be more difficult, but your tasty turkey could become visually unappealing.
Try these steps to serve a tasty and elegantly carved turkey:

STEP 1: Be sure to use a good, sharp knife. Sharp knives are not only safer, they will help you smoothly cut thin, even slices without shredding the meat. Fortunately, you don't have to be an expert to put a razor sharp edge on your knife. A sharpener such as Chef'sChoice EdgeSelect 120 can make sharpening easy. It uses 100 percent diamond-coated disks and a revolutionary polishing stage to create a professional knife edge in seconds. The precision guides eliminate all guesswork for predictable, razor-sharp edges every time it's used. For help finding a sharpener that's right for you, call (800) 342-3255.

STEP 2: After the turkey is cooked (meat thermometer should read 170°F when inserted in the thickest part of the breast) cool bird for 15 to 20 minutes. Cooling makes meat firmer and easier to slice. Remove and set aside turkey legs and last joint of each wing. Make a long, deep (to the bone) horizontal "base cut" into the breast just above wing.

STEP 3: Slice down vertically through breast until you meet the original base cut. This will release perfect, even slices.

The Philadelphia-based Chef Jim Coleman hosts "A Chef's Table", a live weekly radio show broadcast on WHYY 91 FM and throughout the country over National Public Radio. Coleman's "Flavors of America" show airs in ­­­50 million homes across the country. He has published two cookbooks: "Flavors of America" and "The Rittenhouse Cookbook."

Headquartered in Avondale, PA, Edgecraft Corporation markets in 50 countries around the world under the Chef's Choice® brand and manufactures high-quality electric and manual knife sharpeners, cutlery, food slicers, waffle makers and mixes and hot beverage products as well as the gourmet egg cooker and an electric food grinder.