RESTAURANT FOOD WASTE
EarthTalk®
E/The Environmental Magazine
Dear EarthTalk: I work at a fast food place and I am appalled by the amount of unpurchased food we throw away. The boss says we can't give it away for legal reasons. Where can I turn for help on this, so the food could instead go to people in need?
-- Ryan Jones, Richland, WA (11/14/2010)
Many restaurants, fast food or otherwise, are hesitant to donate unused food due to concerns about liability if people get sick after eating it—especially because once any such food is out of the restaurant's hands, who knows how long it might be before it is served again. But whether these restaurants know it or not, they cannot be held liable for food donated to organizations, and sometimes all it might take to change company policy would be a little advocacy from concerned employees.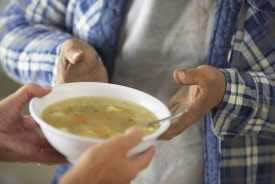 "Brand X Pictures."
Many U.S. food businesses will not donate excess food to those in need due to liability concerns. However, it is an unfounded fear because laws in all 50 states protect food donors from civil and criminal liability for good faith donations of 'apparently wholesome food'
A 1995 survey found that over 80 percent of food businesses in the U.S. did not donate excess food due to liability concerns. In response, Congress passed the Bill Emerson Good Samaritan Act, which releases restaurants and other food organizations from liability associated with the donation of food waste to nonprofits assisting individuals in need. The Act protects donors in all 50 states from civil and criminal liability for good faith donations of "apparently wholesome food"—defined as meeting "all quality and labeling standards imposed by Federal, State and local laws and regulations even though the food may not be readily marketable due to appearance, age, freshness, grade, size, surplus or other condition."
While homeless shelters, elder care organizations and boys and girls clubs are frequent beneficiaries of food donations, the most common recipients are food banks and food rescue programs. Food banks, according to California's CalRecycle website, "collect food from a variety of sources, save the food in a warehouse, then distribute it to hungry families and individuals through local human service agencies." They usually collect less perishable items like canned goods, which can be stored and used any time. In contrast, food rescue programs typically trade in perishable and prepared foods, distributing it to agencies that feed hungry people, usually later that same day. Mama's Health, a leading health education website, maintains an extensive free database of food banks and food rescue programs state-by-state.

Unused or even partially eaten food waste can also be utilized even if it's not edible by human standards. The U.S. Department of Agriculture approves of food businesses giving or selling food waste to local farmers for use in composting or as animal feed. If such food contains or has come into contact with meat, it should be boiled for 30 minutes to reduce the risk of bacterial infections in the animals that eat it. Many states have complementary laws on the books regulating the donation of food waste at the local level.

Many cities and town are now expanding curbside pickup programs to include kitchen scraps and yard waste and then diverting the food waste into profitable compost. Still, some 6.7 percent of the solid waste going into landfills consists of food discards, reports the North Carolina Division of Pollution Prevention and Environmental Assistance. Diverting food waste to feed hungry people or for animal feed or compost is a winning scenario for all concerned parties as it not only provides relief to overburdened landfills but also helps meet social welfare, agricultural and environmental needs. Also, those restaurants, grocery stores and other businesses that donate food will likely reap the additional reward of saving money on their actual waste removal bill as their trash bins and dumpsters won't be filling up quite so fast.


CONTACTS: CalRecycle, www.calrecycle.ca.gov; Mama's Health, www.mamashealth.com; North Carolina Division of Pollution Prevention and Environmental Assistance, www.p2pays.org
SEND YOUR ENVIRONMENTAL QUESTIONS TO: EarthTalk®, c/o E – The Environmental Magazine, P.O. Box 5098, Westport, CT 06881; [email protected] E is a nonprofit publication. Subscribe: www.emagazine.com/subscribe;