Healthy Lunching With Reduced Fat Cheese
Lunch, the often-overlooked meal, is poised to make a comeback as consumers seek deliciously healthy options that also offer value and convenience
Recipes Below
(April 21, 2008) – As Americans continue to overload their schedules, it is no surprise we are spending less time on lunch than ever before: According to a 2007 Information Resources, Inc. Consumer Snacking Study, nearly two-thirds of us are skipping or multitasking during lunch.

However, skipping lunch is doing Americans far more harm than good. While the majority of us are trying to eat healthier, overlooking this important source of midday energy can lead to unhealthy snacking, overeating at dinner, and decreased productivity in general. On the other hand, a food break around noon reenergizes the body and gives the mind a moment of rest.

For consumers striving to lead a healthy lifestyle, four simple changes to your daily routine will improve your midday eating habits, resulting in a healthier lifestyle and improving the quality of your day.
• Plan Ahead: Packing a lunch the night before can save you time, money and empty calories. Plan each week's lunches ahead of time to ensure your meals are as delicious as they are nutritious. For inspiration, check out the meal options at www.alpinelace.com.

• Read the Label: Don't be fooled by reduced-fat foods that are actually high in sodium or lacking in nutrients. Alpine Lace® Reduced Fat Deli Cheeses contain 25 percent less fat and 25 percent less cholesterol per serving than regular cheeses. Alpine Lace® Reduced Sodium Muenster Cheese is 25 percent lower in sodium per serving than regular cheese.

• Pay Attention to Portions: Research from the National Center for Chronic Disease Prevention shows that portion sizes have increased in the past two years, with people inadvertently consuming more calories when faced with larger portions. Check out the serving sizes when purchasing reduced fat foods and ensure you aren't getting more than you expect. Alpine Lace® Deli Cheese's newlyreconfigured slice size will help consumers choose the portion that works best for their lifestyle.

• Snack Smart: Bring healthy snacks to eat throughout the day, such as apple slices and Alpine Lace® Deli Cheese. If you tend to snack at home, cut up and refrigerate snack-sized portions of your favorite healthy foods so they're just as convenient as the calorie-rich packaged snacks timecrunched consumers may gravitate towards.
A great lunch option to add to sandwiches and salads, Alpine Lace® Deli Cheese is available in major food retailers nationwide for slicing at the deli counter or convenient, 8-oz. pre-sliced packages in the self-serve section of the deli.
RECIPES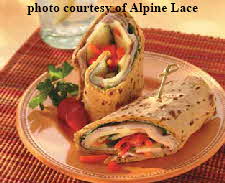 TURKEY VEGGIE WRAP
Look for the flatbreads in the bread aisle or near the deli.
Preparation Time: 15 min.
Servings: 4 servings

Ingredients:

• 1 cucumber
• 1/4 cup LAND O LAKES® Fat Free Sour Cream
• 1 teaspoon finely chopped roasted garlic
• 2 (11x7-inch) muligrain flatbreads
• 1 cup fresh spinach leaves, washed, stems removed
• 8 ounces sliced deli turkey breast
• 4 (1-ounce) slices Alpine Lace® Deli Reduced Fat Swiss Cheese
• 1/4 cup shredded carrot
• 1/4 cup chopped red bell pepper


Instructions:

Using a vegetable peeler, peel 6 thin lengthwise ribbon-like slices from cucumber. Set aside.

Combine sour cream and garlic in small bowl. Spread 1 side of each flatbread with sour cream mixture.

Top each flatbread with 1/2 cup spinach leaves, 3 ounces turkey, 2 slices cheese, half of carrot, half of bell pepper and 3 cucumber slices.

Roll up starting at 11-inch side; cut each wrap in half. Secure with toothpicks.

Nutritional Facts: 1 serving
Calories 240; Fat 7 g; Cholesterol 45 mg; Sodium 750 mg; Carbohydrate 21 g; Dietary Fiber 8 g; Protein 26 g
PROVOLONE GARBANZO SALAD
Provolone cheese is mixed with a variety of vegetables and tossed with a vinegar-based salad dressing in this easy salad.
Preparation Time: 15 min.
Chilling Time: 1 hrs.
Servings: 5 (3/4-cup) servings

Ingredients:

• 3 tablespoons rice vinegar
• 2 tablespoons lemon juice
• 2 teaspoons finely chopped fresh garlic
• 2 teaspoons olive oil
• 1/4 teaspoon salt
• 1 cup cherry tomatoes, cut in half
• 1/2 cup chopped green bell pepper
• 1/2 cup thinly sliced red onion
• 1 (15-ounce) can garbanzo beans, rinsed, drained
• 1 (6-ounce) slice (1/2 inch thick) Alpine Lace® Deli Reduced Fat Provolone or Reduced Fat Mozzarella Cheese, cubed
• 2 tablespoons chopped fresh parsley


Instructions:

Whisk together vinegar, lemon juice, garlic, olive oil and salt in large bowl. Add all remaining ingredients; toss to coat. Cover; refrigerate for at least 1 hour to allow flavors to blend.

Nutritional Facts: 1 serving
Calories 200; Fat 10 g; Cholesterol 20 mg; Sodium 410 mg; Carbohydrate 17 g; Dietary Fiber 4 g; Protein 13 g

Alpine Lace® Deli Cheeses are manufactured to exacting standards: The cheeses are made without preservatives, contain 0 grams of trans fat, are a good to excellent source of calcium per serving, and are a good source of protein per serving.

Alpine Lace® Deli Cheese comes in an array of popular varieties, including Swiss, American, Cheddar, Co-Jack®, Provolone, Muenster and Mozzarella. Suggested retail price for pre-sliced and slicing cheese is $4.49 for 8 oz. and $7.99 per pound, respectively. Visit www.alpinelace.com for delicious recipes and tips for healthier lifestyles.