QUEEN OF PUDDINGS FOR MOTHER'S DAY
(Recipe & photo below)

It was Mother's Day. My mother and stepfather were just coming back from a trip. I can't recall if the trip was for business or pleasure, but I do recall I was 16-years old.

I decided to surprise my parents with a meal. Being my stepfather has diverticulitis, I had to keep that in mind. I can't recall what I made. It's been so long ago, but I do remember what I made for dessert. It was Queen of Puddings. My mother raved over it, and I still remember to this day how much she loved it.

The British have a knack of coming up with the most unusual desserts, well, unusual by American standards. But they are masters of teatime, right?! Queen of Puddings is an egg custard thickened with breadcrumbs and very creamy. It can be flavored with vanilla or lemon (or whatever your heart desires). Then, it is spread with jam, usually raspberry or black currant, which adds sweetness to every bite. Topped with a crisp outer layer, and soft inner layer of meringue. History shows that it was consumed as early as the seventeenth century, but gained popularity when one of Queen Victoria's chefs made it for her. Hence the name, Queen of Puddings.

In modern life, you can leave this decadent dessert they way in which it was intended, or you can slim it down by using skim milk or soy milk in the custard. I have seen chocolate custards, flavored meringues, and liqueur infused jams with whole fruit! The possibilities are endless. Anyway you do it, you will indeed have a dessert fit for a queen!

My experience has had this exquisite dessert cooked and served in a casserole dish or perhaps a pie plate, but to me, it seems rather elegant (and less sloppy) to prepare them in individual ramekins, as one would for creme brulee.
RECIPE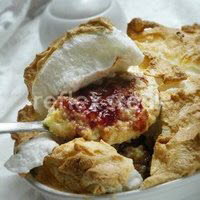 QUEEN OF PUDDINGS
Yields: 4 servings
Ingredients
• 2 eggs, separated
• 1/2 cup sugar, divided
• 2 cups heavy cream
• 2 tablespoons unsalted butter
• 1 1/2 cups fresh breadcrumbs
• 1/8 teaspoon salt
• 1 teaspoon vanilla extract
• zest of 1 lemon
• 1/4 cup jam, warmed
• 1/4 teaspoon cream of tartar

Directions
Separate eggs carefully.

Slightly beat egg yolks with half of the sugar.

In a pot over medium heat, scald the cream with the butter. Then pour into the yolk mixture, stirring all the time.

Add the breadcrumbs, salt, vanilla extract and the zest from one lemon.

Pour the mixture into greased individual ramekins and bake at 350 degrees in the center of the oven for about 10 - 15 minutes until the custard is set.

Spread the jam over the top.

Beat the egg whites with the cream of tartar. Add the remaining half of sugar until soft peaks are formed. Spread over each ramekin and return to the oven until the tops are nicely browned, about 10 more minutes.

Serve immediately.

Photo from Reflex Stock.

Jennifer A. Wickes
Food Writer, Recipe Developer, Cookbook Reviews
http://www.gardenplate.com/
http://culinaryjen.gather.com/
http://foodpursuit.blogspot.com/
http://wickedscrumptiousscones.blogspot.com/
http://www.foodbuzz.com/profile/culinaryjen
http://home.comcast.net/~culinaryjen/Home.html