How To Make Pizzas With Your Own Refrigerator Dough
How would you like to mix up the dough for your favorite pizza before you go to bed, put the pizza dough in the refrigerator, and pull it out to make your pizza when you get home from work the next day? You can with this refrigerated pizza dough technique.

One of the international pizza restaurant chains refrigerates their pizza dough for eight hours. We like that concept. Since yeast produces a different flavor profile at low temperatures, refrigerated dough makes complex, yeasty breads. We also liked the convenience--you can mix the dough one evening and make the pizza the next.

So we set off to test the concept.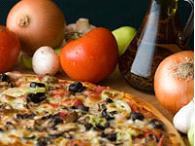 We used pizza dough mixes but we could have made dough with a recipe. We mixed it according to package directions, left it in a clean large glass bowl, and immediately put it in the refrigerator covered with plastic.

The next day, we removed the pizza dough from the refrigerator where it had partially risen and made the crust. We let it rest and rise for one hour. In one hour, in a warm kitchen, the pizza crust had risen and was no longer dense. We added the sauce and toppings and baked as we would normally at 425 degrees for 15 minutes on a dark pan.

We found the crust extraordinary. With refrigeration, there is definitely an overtone of yeasty flavors almost like sourdough bread. We think you'll like pizzas made this way.

Kitchen notes:

1. Yeast is very sensitive to temperature and refrigerating dough is not an exact science without precise temperature control. Rising times will vary in your kitchen. In our kitchen, time varied from 60 minutes to 90 minutes. A thinly rolled crust will take considerably less time to warm and rise than a thicker crust.

2. It's important that you get the dough into your refrigerator immediately after kneading and before the yeast begins to multiply.
3. The dough will rise some in the refrigerator. Yeast will grow as the dough slowly cools stopping completely at about 40 degrees. Make sure that you use an oversize bowl so that there is room for expansion.

4. Be sure that the dough is covered with plastic to keep it from drying out. We very lightly sprayed the top of the dough ball with an oil mister to keep the plastic from sticking to the dough.

5. The dough can sit in your refrigerator for up to three days.

We've worked a great deal with refrigerated dough. It takes a little patience to let the dough warm and rise but the results can be fantastic.

Dennis Weaver is the founder of The Prepared Pantry and author of the free baking book, How to Bake. The Prepared Pantry has a free Pizza and Calzone Information Center with instructions and techniques for making pizzas and calzones.