An Introduction to Monkey Bread
By Dennis Weaver
Nancy Reagan served monkey bread in the White House, especially during the holidays. It was a special, rich monkey bread made with tons of butter—almost brioche. She used a butter-rich dough, cut the dough into balls, rolled the balls in more butter and then stacked then in a ring pan for baking. The recipe was published by the American Cancer Society in 1985.

Today most monkey breads are made similarly but instead of so much butter, they are covered with a sweet glaze. The classic glaze is made of cinnamon and sugar, cinnamon monkey bread, but nuts or raisins are often added and glazes vary. The steps for making monkey bread remain the same: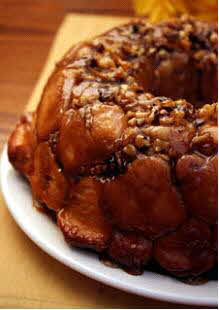 Step 1: Mix the dough.
Mix the dough as you would for other bread recipes. You can use your bread machine if you like. Doughs for monkey bread are usually a little richer and may have an egg or two added. Let the bread rise.

Step 2: Make the balls.
The easiest way to make the balls is to roll the dough out on the counter and cut the dough into squares with a sharp knife or pizza wheel. Roll the chunks into balls. They should be no larger than walnuts.

Step 3: Coat the balls.
There are two ways to coat the balls: dip the balls in butter and roll them in a sugar mixture or make a buttery slurry for the glaze and dip the balls in the slurry. For cinnamon monkey bread, dip the chunks in butter and roll them in a cinnamon and sugar mixture.
Step 4: Load the pan.
Stack the balls in a bundt or other pan. (Don't use an angel food cake pan or springform pan since they may leak.) Nuts or fruit can be added between layers if desired. If you want to top your monkey bread with nuts, place nuts in the bottom of the pan since the monkey bread will be inverted onto a platter after baking.
Step 5: Bake the bread.
Bake the bread at 350 degrees or as directed by the recipe. Once baked, let the monkey bread cool in the pan for about five minutes before inverting on a platter. This gives the glaze a chance to set up a bit so that it does not run everywhere when inverted. Serve the monkey bread warm and fresh.

There are a ton of variations to monkey bread. We sometimes add a cup of jam to the glaze. We may add almond or rum extract to the bread and fruit between the layers. A chunk of cream cheese or a half dozen chocolate chips me be wrapped into the center of the balls. A packet of non-instant butterscotch pudding is often used in the glaze. Even savory instead of sweet monkey breads are made with cheese, onions, herbs, or bacon. Once you learn how to make money bread, you can explore forever.

Courtesy of the Prepared Pantry - www.preparedpantry.com