See also: Food Tour of India; Bengali Cuisine
Indian Cuisine
A short guide to regional Indian Cuisine
India's area is one-third that of the United States, yet it is the world's second most populous country. Within its borders, India's North, East, West and South regions boast diverse and unique cooking styles. The common thread in all the regional recipes and preparation methods is a reliance on blends of spices and seasonings. These blends - known as masala - are the essence of Indian cuisine. A blend may range from a simple combination of two or three spices to a complex combination of 10 or more ingredients.

Following is a simple guide to the key flavor profiles and ingredients native to each region of India: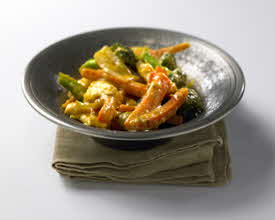 NORTH: India's cooler Northern region is characterized by hearty textures and warm, subtle flavors. The North is also home to many of the familiar Indian restaurant favorites that are prepared in a tandoor oven. The chimney-like, clay tandoor oven cooks breads and meats over intense heat to provide a succulent cross between barbecuing and baking. Tandoor cooking also results in delicious aromas and a distinctive bright reddish-orange hue.

EAST: Surrounded by rivers and the ocean, the cuisine of east India focuses on plentiful, fresh fish. The region's warm, rainy climate allows for the cultivation of numerous varieties of rice, which are prominent in local specialties. Eastern cuisine is also known for its complexity of flavor and bittersweet balance. Mustard oil, which comes from mustard seeds, is often used in cooking and adds a pungent, slightly sweet flavor and intense heat. This region also is renowned for delicious sweets and savories.

WEST: West Indian cuisine is where the flavors of the North meet the South. Ranging from sweet to hot and spicy, the West is known for its rich, saucy vegetables as well as lentils and grains.
Another local specialty, Vindaloo, is a searing curry dish made with vinegar and garlic that is typically combined with meat and served with rice.

SOUTH: The cuisine of Southern India is primarily vegetarian, resulting in an abundance of well-spiced, meatless local specialties. Rice is a dominant regional crop as well as a favored ingredient along with legumes. Other prominent ingredients include coconut, coconut milk and tamarind.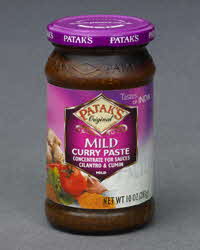 Today, supermarkets are increasingly stocking prepared ingredients - from chutneys and cooking sauces to curry pastes - to help home cooks bridge the gap between takeout and authentic, from-scratch Indian cooking. "The availability of convenient, high-quality products is helping even novice home cooks experiment with authentic Indian cuisine without spending a great deal of time or money," says Vijay Anand, development chef, Patak's Foods, USA.
With the help of PATAK'S Indian cuisine products, it has never been easier to overcome the fear factor and bring delicious, authentic Indian meals to the dinner table.
NORTH: Since the average American home kitchen is not equipped with a tandoor oven, the essence of this traditional marinade has been captured in PATAK'S Tandoori Paste for use before grilling or searing meat.

EAST: PATAK'S Rice Meals make it easier to enjoy traditional Indian-flavored blends at home with quick-cooking choices like basmati, coconut and yellow rice.

WEST: PATAK'S Vindaloo Curry Paste and Cooking Sauce offer easy stepping stones for home cooks who wish to create spicy and sour sauces quickly.

SOUTH: PATAK'S Madras Curry Paste is a timesaving way to bring the bold flavors of southern India - including coriander, cumin and red chilies - to the dinner table. The paste serves as a sauce concentrate that can be combined with stock, yogurt or canned tomatoes to create a delicious sauce for meat, poultry, seafood or vegetables.

For great recipes and meal ideas or to find PATAK'S® products at a retailer near you, visit www.worldfood.com or call 1-800-726-3648