WHAT'S COOKIN' AT THE FISH CREEK HOUSE
(Recipes below)
Breakfast at its best nourishes both the body and the spirit. The pleasures of visiting a bed and breakfast include a leisurely gourmet breakfast Egg dishes delight, muffins and pastries offer an irresistible touch of sweetness, and refreshing fruits and glistening jams have an appeal all their own. With offerings like cornmeal crêpes, baked eggs, coconut coffee cake, homemade bagels and crisp English muffins, breakfast comes as a welcome wake-up call. Morning pleasures this alluring make it easy to throw back the bedcovers and race to the breakfast table. And best of all, you don't have to do the dishes!!

Here at the Fish Creek House Bed and Breakfast, each morning, you will be greeted with one of our fantastic breakfasts served in our sunlit dining room. Everything is fresh, beautiful and absolutely delicious. Rich coffees, fresh squeezed juices, the most gorgeous fruits, fragrant just baked breads and delectable main dishes. Yum .. So this morning,I whipped up a plate of Benedict. I say whipped up. Worked out might be a better turn of phrase. Benedict is a multi-phase project, and timing is critical. You don't so much need a recipe as a Gantt chart. First, you clarify some butter. Then, you whip up the Hollandaise. Then, you grill some ham or bacon (Then, you poach some eggs. Finally you plate it all up on muffins (or
toast), an serve.
Of Course our our breakfast menu here at Fish Creek House wouldn't be complete without a Catch of the Day Breakfast:
• Coffee, tea, Bloody Mary's or tomato juice
• Scrambled Eggs with Smoked Trout, Parsley and Cream Cheese
• Toast, bagels, cream cheese
• Scrambled Eggs with Smoked Trout

RECIPES
SCRAMBLED EGGS WITH SMOKED TROUT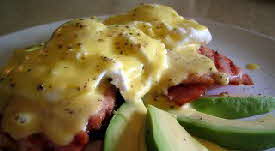 Per person.
• 2 eggs
• 2 TBs smoked trout, flaked
• 1 tsp fresh, chopped parsley
• 4 1/4 tsp of cream cheese
• 1 tablespoon butter

DIRECTIONS
Crack the eggs into a bowl...just break the yolks. Have the trout and the parsley in two small bowls. (I dab the cream cheese around the edges of the bowl to keep each "dab" separate.) Heat a skillet on medium heat....add butter....when sizzling, add eggs, folding and fluffing so that the whites and yolks do not combine too much. When almost set, fold in the trout and parsley and drop in the cream cheese. Fold gently and serve. Wonderful with great bread or bagels toasted. You may also use smoked salmon.

Make Montana Memories with this:
FRENCH TOAST CASSEROLE RECIPE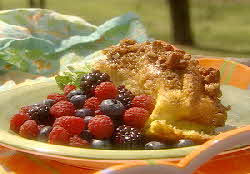 • 1 loaf French bread (13 to 16 oz)
• 8 large eggs
• 2 cups half-and-half
• 1 cup milk
• 2 tablespoons granulated sugar
• 1 teaspoon vanilla extract
• 1/4 teaspoon ground cinnamon
• 1/4 teaspoon ground nutmeg
• Dash salt
• Praline Topping, recipe follows
• Maple syrup

Slice French bread into 20 slices, 1-inch each. (Use any extra bread for garlic toast or bread crumbs). Arrange slices in a generously buttered 9 by 13-inch flat baking dish in 2 rows, overlapping the slices. In a large bowl, combine the eggs, half-and-half, milk, sugar, vanilla, cinnamon, nutmeg and salt and beat with a rotary beater or whisk until blended but not too bubbly. Pour mixture over the bread slices, making sure all are covered evenly with the milk-egg mixture. Spoon some of the mixture in between the slices.
---Cover with foil and refrigerate overnight.

---The next day, preheat oven to 350 degrees F.
Spread Praline Topping evenly over the bread and bake for 40 minutes, until puffed and lightly golden. Serve with maple syrup.

PRALINE TOPPING:
• 1/2 pound (2 sticks) butter
• 1 cup packed light brown sugar
• 1 cup chopped pecans
• 2 tablespoons light corn syrup
• 1/2 teaspoon ground cinnamon
• 1/2 teaspoon ground nutmeg
Combine all ingredients in a medium bowl and blend well.
Makes enough for Baked French Toast Casserole.

Regards, Cid Bus -
Fish Creek House Bed and Breakfast - Making Montana Memories