Spice Up Mealtime


with a Cinco de Mayo-Themed Menu
The Other White Meat Enlists Celebrity Entertainers/Authors, Carolina Buia and Isabel Gonzalez to Help Families Celebrate in Style
(Recipes & photos below)
A recent survey of more than 1,000 chefs across the country reveals: Latin American cuisine is one of the "hottest" ethnic cuisines in 2008*. Cinco de Mayo, a holiday that historically celebrates the defeat of the French army by the Mexicans at the Battle of Puebla in 1862, has fast become one of America's most popular occasions for general celebration and entertaining. It is the perfect occasion to bring the dynamic flavor of Latin food to your family's dinner table.

To help home cooks create their own Latin fanfare at home, the National Pork Board has teamed up with entertaining experts and co-authors of 'Latin Chic: Entertaining with Style and Sass', Carolina Buia and Isabel Gonzalez, to offer tips for Cinco de Mayo cooking and entertaining.

Delicioso Edible Essentials
"The secret to spicing up mealtime with Latin-style dishes is choosing simple, yet delicious dishes. Pork recipes are the perfect fit -- preparation is as easy as uno, dos, tres so you spend less time in the kitchen and more time with your family and friends," said Gonzalez.
Here are two recipes that incorporate the spirited flavor of Mexican street-food fare and require less than 45 minutes in the kitchen: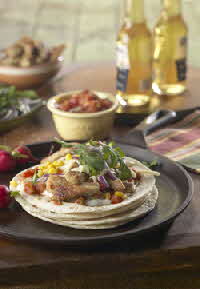 RECIPES for Cinco de Mayo menu
VELVETED PORK TACOS
A unique and fun alternative to traditional chicken or beef tacos; the self-serve style of this dish makes it the perfect choice for feeding the family or a large crowd!
Makes 6 servings (12 tacos)
Ingredients
• 2 pounds boneless pork chops
• 1/3 cup corn starch
• 1/3 cup olive oil
• 1 1/2 tablespoons ground cumin
• 1 package of 12 flour tortillas ("fajita" or smaller size tortillas)
• 1 bunch fresh cilantro
• 1 red onion
• 1 tablespoon white vinegar
• 1 tablespoon + 1 teaspoon olive oil
• 1 8-ounce can of corn niblets
• 1 12-ounce jar tomato salsa
• 1 8-ounce container sour cream (regular or non-fat)
• 1 8-ounce package shredded cheese
• Salt and pepper

Directions
Cut pork chops into small, bite-sized pieces. In a bowl, mix together corn starch, oil, cumin and 1 teaspoon black pepper until smooth, like a runny paste. Add pork to mixture and set aside to marinate for 30 minutes.

While pork marinates, wash cilantro and pluck whole leaves from stems, about 3/4 cup worth. Place whole cilantro leaves in a bowl. Thinly slice 1 red onion and add to cilantro, creating a salad. (You can adjust cilantro/red onion ratio to taste.) Add a dash of black pepper, one tablespoon of vinegar and one tablespoon of olive oil, toss to coat and set aside.

After pork has marinated, cook it in batches. Add a teaspoon of olive oil to a non-stick sauté pan and place over medium-high heat. When oil comes to temperature, cook half the pork pieces (without removing the marinade). Cook until the outside of the pork pieces are brown and a crust has formed and the inside is cooked through, about 5 minutes per side. If needed, add more oil to the pan, and then cook the second half of the marinated pork. Once finished, sprinkle cooked pork with salt to taste.

To assemble tacos warm tortillas according to directions on the package. Take one tortilla and smear a teaspoon of sour cream down the middle. Top with 7-8 chunks of pork. Atop pork, place a spoonful of salsa, then top with cilantro red onion salad, a teaspoon of corn kernels and pinch of cheese. Fold over to enjoy!
*For a tapas version of this recipe, make the tacos smaller and seal with bamboo toothpicks.
Nutrition information per serving:
Calories: 950; Fat: 57g; Saturated fat: 23g; Cholesterol: 155mg; Sodium: 1110mg; Carbohydrates: 53g; Protein: 44g; Fiber: 3g

PORK MEDALLIONS WITH MIRASOL AND CHERRY CREAM SAUCE
Not only do the moist pork tenderloin medallions meld the piquant bite of Peruvian Mirasol peppers with the candied hint of dried cherries, but pork tenderloin is the leanest cut of pork with only 2.98 grams of fat per 3-ounce serving, making it as lean as a skinless chicken breast.
Makes 6 servings.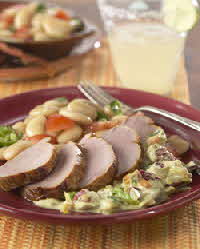 Ingredients
• 2 pork tenderloins (14-16 ounces)
• Olive or vegetable oil
• 1/2 large red onion, finely chopped
• 1 small carrot, finely chopped
• 1 small celery stalk, finely chopped
• 4 finely garlic cloves, chopped
• 1 cup white wine
• 2 teaspoons or more of Peruvian mirasol pepper paste (also known as aji Amarillo*)
• 1/2 cup dried sour cherries
• 1 teaspoon sugar
• 3/4 cup heavy cream
• 2 tablespoons of loosely packed, finely chopped flat parsley
• 1 tablespoon of celery leaves, finely chopped
• Salt and pepper to taste

Directions
Preheat the oven to 350 degrees F. Pat dry and season the pork tenderloins. Coat a large, ovenproof skillet with oil and heat. Add the tenderloins to the skillet and over moderate heat, brown all sides of the pork. Place the tenderloins on a plate.

Meanwhile, add the onion, carrot, celery, and garlic to the skillet and cook over moderate heat until the onions are soft and the garlic is just starting to brown. Lower the heat and add the wine. Simmer for a couple of minutes. Return the pork to the skillet, add a 1/2 cup of water, and place the skillet in the preheated oven for approximately 30 minutes, or until the internal temperature reaches 155 degrees F. Remove pork onto a plate and tent with a large piece of aluminum foil.

Return skillet to the stovetop and over low to moderate heat, stir in the mirasol pepper paste, the cherries, the sugar, and the heavy cream. Simmer until the sauce thickens and lightly coats the wooden spoon. Fold in the chopped parsley and celery leaves and adjust the seasonings to taste. Add the pork back into the skillet, coating. Cut the pork into medallions and serve over quinoa or a side of white beans.

Nutrition information per serving without quinoa:
Calories: 360; Fat: 16g; Saturated fat: 8g; Cholesterol: 125mg; Sodium: 13mg; Carbohydrates: 14g; Protein: 29g; Fiber: 1g
Nutrition information per serving with 1/2 cup quinoa:
Calories: 470; Fat: 18g; Saturated fat: 8g; Cholesterol: 125mg; Sodium: 140mg; Carbohydrates: 34g; Protein: 33g; Fiber: 4g
Nutrition information based on preparation of recipe instructions as listed above. Where amounts were not specified, the following ingredients and quantities were used in assembly: 8 ounce can of corn, 12 ounce jar of salsa, 8 ounce container sour cream and 1 teaspoon oil for cooking the pork (as directed in recipe).
All recipes courtesy of Carolina Buia and Isabel Gonzalez, co-authors of Latin Chic: Entertaining with Style and Sass