HISTORY OF THE BROWN PALACE HOTEL

Denver, Colorado
Excerpt from The Great Tea Rooms of America by Bruce Richardson
THE BROWN PALACE
(Recipe below)
The story of the Brown Palace Hotel begins in a setting ripe for entrepreneurship. It was the late 1800s in Denver, Colorado and people from all over the country were still flocking to the west, seeking fortunes in gold and silver. Everyone stopped in Denver, either on their way to or from the mountains. Some settled, some moved on, but all needed a place to stay.

Henry Cordes Brown, a former carpenter from Ohio, came to Denver in 1860 to purchase several acres of land, including a triangular plot at the comers of Broadway, Tremont and 17th Streets where he grazed cattle. Brown made a name for himself by donating land for the state capitol building and by contributing the first $1000 to build the city's first library. He then decided what Denver really needed was a grand hotel and that he would build it.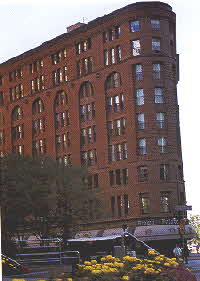 Work began in 1888 on the Italian Renaissance building, using Colorado red granite and Arizona sandstone for the building's exterior. Inside, architect Frank Edbrooke designed the country's first atrium lobby with balconies rising eight floors above ground, surrounded by cast iron railings with ornate grillwork panels. The hotel was hailed as the second fire-proof building in America. No wood was used for the floors and walls.

After a construction expenditure of $ 1.6 million, remarkable for the time, and another $400,000 for furniture, the Brown Palace opened on August 12, 1892. It has remained open every minute since then, even during a recent $6.5 million restoration of the top two floors.

The tradition of "taking tea" at the Brown Palace is a long-standing one; guests have been doing it for over a century. Today, afternoon tea is served daily in the midst of the atrium lobby, accompanied by either a harpist or pianist.
Specially commissioned Royal Doulton bone china graces each tea table, along with engraved
silver tea pots. Every detail has been considered, down to the silver tea strainers.

Scones, tea pastries and beautiful tea sandwiches are artfully prepared by the hotel's culinary staff each day. Devonshire cream is shipped directly from England. Uniformed wait staff, schooled in the art of English tea service, look after every need. Guests choose between the traditional Brown's Tea or the Royale Palace Tea. In addition, Luncheon Tea with a selection of four entree salads is offered from noon until 2:00.
Afternoon Tea in this grand space has had some unusual accompaniments over the past century. Because of its long standing association with the National Western Stock Show, the Brown Palace has a tradition of displaying champion steers and bulls in the atrium lobby during teatime each January.

Cowboy star Monty Montana used to ride his horse. Rex, into the hotel, usually roping the general manager. On at least one occasion, Monty rode Rex up the grand staircase to a meeting of the Rodeo Cowboys Association.
A visit to Denver affords travelers opportunity to see a variety of unique sites The Rocky Mountains are outside your window. The internationally recognized Denver Art Museum and Coors Field, home of the Colorado Rockies Baseball Club, are both a short walk away. The impressive Denver Mint stands further south. A free tour of this fascinating operation is sure to be one of the highlights of any visit to the mile-high city.

Standing the test of time, the Brown Palace today remains what it was originally meant to be: a grand, unprecedented hotel framed by the grandeur of one of North America's supreme mountain ranges. Indeed, the Brown Palace is still known for many of its original qualities — its unusual shape, stunning eight story atrium lobby, elegant atmosphere, and perhaps most importantly, the ability to treat guests like royalty.

RECIPE: BABY CAKES RECIPE
Ingredients
• 2/3 cup butter, room temperature
• 1¾ cups sugar
• 2 eggs
• 2 teaspoons vanilla extract
• 3 cups cake flour
• 2 teaspoons baking powder
• 3/4 teaspoon salt
• 1¼ cups milk
• slightly sweetened whipped cream
• fresh fruit, such as berries or kiwi

Directions
Preheat oven to 325° F Wash and dry 14 tin cans, 14 to 16 ounces each, or 14 small (1-cup) souffle dishes, grease and flour insides.

In large bowl of electric mixer, beat butter, sugar, eggs, and vanilla until fluffy. Beat 5 minutes on high speed, scraping bowl occasionally.

Combine flour, baking powder, and salt. Add dry ingredients to batter alternately with milk. Spoon about 1/3 cup of batter into each prepared tin can. Bake until a toothpick inserted in center comes out clean, 25 to 30 minutes.

Remove to a wire rack and cool completely, until the edges become dry and crusty Run a knife around the inside of cans or dishes to loosen edges, tap on a counter, then turn cakes out.

With a serrated knife, cut off and discard the rounded tops of cakes. Turn cakes upside down so cut edges are on the bottom. Cut cakes into two layers and fill with whipped cream and fresh fruit.

For a fun presentation, use pinking shears to cut out squares of colorful wrapping paper large enough to cover the center of your dessert places. Serve the Baby Cakes on the wrapping-paper.
---------