80 Million Pounds Of Hass Avocados For One Football Game!
Avocado Consumption Expected to Nearly Double Compared to Last Year's Game
Recipes below
The Hass Avocado Board today announced it anticipates that football fans across the country will devour an estimated 80 million pounds of Hass avocados during Big Game Day get-togethers (compared to 53.5 million pounds of the fruit that was eaten around last year's game). That's enough to cover Miami's Dolphin Stadium football field (which will be hosting Big Game Day on February 7), end zone to end zone, 30.9 feet deep in avocados. Big Game Day is projected to be one of the largest Hass avocado consumption events of 2010, with more than 160 million Hass avocados set to be eaten by consumers at their game day get-togethers.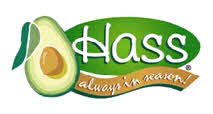 Hass avocados have become the go-to ingredient for Big Game Day party dishes – from topping off burgers, chili and nachos, to serving as the star in classic guacamole dips. In addition to their delicious flavor and creamy texture, Hass avocados also contribute nearly 20 vitamins and minerals to one's diet, so fans can feel good about including the fruit as part of their game day spread.

While guacamole is a must-have at any game day gathering, the Hass Avocado Board challenges creative chefs to go beyond guacamole and use avocados as an ingredient to turn ordinary snacks into tantalizing meals that will score points with their guests.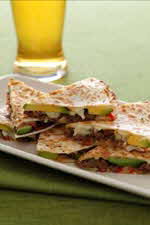 CHEESESTEAK QUESADILLAS WITH HASS AVOCADO
For fans craving a quick and tasty snack to eat while watching the on-field action, the "Cheesesteak Quesadillas with Hass Avocado" recipe is a perfect option.
Prep Time: 10 minutes
Cook Time: 20 minutes
Total Time: 30 minutes
Serves: 8
Ingredients
• 1/2 Tbsp. canola oil
• 3/4 lbs. top round steak, very thinly sliced
• 1 1/2 Tbsp. grilling spice mix
• Salt, to taste
• 1/2 medium yellow onion, thinly sliced
• 1/2 red bell pepper, seeds and membrane removed, and thinly sliced
• 3/4 cup shredded low-fat mozzarella cheese
• 1 ripe, fresh Hass avocado, seeded, peeled and cut into 1/4-inch slices
• 4 flour tortillas

Instructions
1. Place oil in a large skillet over high heat.

2. Sprinkle steak slices with grilling spice mix, tossing to coat.

3. Working in batches, if necessary, add steak to hot skillet and cook, stirring frequently, until browned and cooked through, about 7 minutes. Season with salt.

4. Remove steak from pan and place in a medium bowl. Cover to keep warm.

5. Return skillet to high heat. Add onion and pepper and cook, stirring frequently, until lightly browned, about 7 minutes. Place in bowl with steak and toss to combine.

6. Wipe excess fat from skillet and reduce heat to medium.

7. To assemble quesadillas, place even amount of steak, onion and pepper mixture, cheese and avocado on half of each tortilla, leaving the other half empty. Fold unfilled halves over to cover.

8. Place quesadilla in hot skillet and cook until tortilla has turned golden brown. Turn and cook until remaining side is golden brown. Cut in quarters before serving. Repeat with remaining quesadillas.

Tip: The steak, onion and peppers can be cooked the day before serving, if kept covered and refrigerated. Before assembling quesadillas, place steak mixture in a hot skillet for 5 minutes, stirring frequently, until heated through.

Nutrition Information Per Serving:
Calories 340; Total Fat 13 g (Sat 4 g, Trans 0 g, Poly 2 g, Mono 7 g); Cholesterol 35 mg; Sodium 780 mg; Total Carbohydrates 33 g; Dietary Fiber 3 g; Protein 22 g

FIELD OF GUACAMOLE
Another game day recipe that's sure to be a hit is the "Field of Guacamole." Fans can dress up their snack table with this mini football field – a game day twist on guacamole.
Serves: 16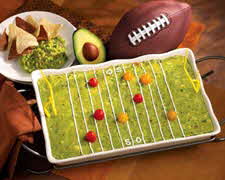 Ingredients:
• 6 ripe, fresh Hass avocados, seeded, peeled and cut in chunks
• 3 limes, juiced
• 2 tsp. salt
• 1 medium sweet white onion, diced
• 2 large, ripe roma tomatoes, seeded and diced
• 2 medium, fresh jalapeño peppers, seeded if desired, and diced
• 2 cups Mexican-blend finely grated cheese, or finely grated cheddar
• 1/2 cup chopped cilantro leaves
• 1 pint sour cream
• Food coloring for team colors (optional)
• Colorful tortilla chips for dipping
Instructions:
1. Mash avocados with lime juice and salt in a large bowl, until just creamy. Add diced onion, tomatoes, jalapeños and cilantro and combine gently. Stir in grated cheese. Taste and adjust seasoning with more salt if desired. In a glass 9 x 13 (rectangular) pan, spread mixture evenly and smoothly.

2. If using sour cream for team colors, divide it into three bowls. Tint one portion with desired amount of food coloring, repeat for second bowl, and leave third bowl plain. To create design of guacamole, follow next procedure for piping, using three separate plastic zipper bags.

3. Place sour cream in a zipper bag and squeeze carefully to let all air escape before sealing. Squeeze all the sour cream to one corner and snip a tiny hole in the bottom of that corner. Now use the bag as a pastry bag to pipe your design. Use plain white to pipe on the yard lines and colored sour creams to designate Xs for the defense and Os for the offense.

4. Tuck a few tortilla chips around the edges of the pan to add color and eye-appeal. Place remaining chips in a serving basket. Serve and watch your guests tear up the field!

*Large avocados are recommended for these recipes. A large avocado averages about 8 ounces. If using smaller or larger size avocados adjust the quantity accordingly.
For more Big Game Day recipes, visit the Hass Avocado Board's Web site at www.avocadocentral.com/biggame
About HAB
The Hass Avocado Board (HAB) was established in 2002 after approval by producers and importers of Hass avocados in a national referendum. A 12-member Board administers the program. Over 20,000 producers and 100 importers are involved in the HAB, which covers fresh domestic and imported Hass avocados sold in the U.S. market.