THE HISTORY OF THE CRANBERRY
A TOP TEN LIST
Cranberry Recipe below
Around our house, Thanksgiving just wouldn't quite be Thanksgiving without cranberries. But how much do you know about the history of this deep red fruit? Here's a Top Ten List of historical cranberry factoids, courtesy of Ocean Spray Cranberries.

Did you know…?
1. Cranberries are one of only three fruits that are native to North America. It's a wild fruit that grows on long-running vines in sandy bogs and marshes, mostly in the Northeast, but also in the Pacific Northwest.

2. Native Americans were the first to enjoy cranberries. They mixed deer meat and mashed cranberries to make pemmicana—a survival food. They also believed in the medicinal value of cranberries—long before science discovered cranberry's health benefits.

3. Native Americans also used the rich red juice of the cranberry as a natural dye for rugs, blankets and clothing.

4. Cranberries were called "sassamanesh" by Eastern Indians. While the Cape Cod Pequots and the South Jersey Leni-Lenape tribes named them "ibimi," or bitter berry. It was the early German and Dutch settlers who started calling it the "crane berry" because the flower looked a lot like the head and bill of a crane.

5. It wasn't until the 1800's that people began farming cranberries. At first growers would pick the cranberries by hand. Today most cranberries are harvested using a technique known as wet harvesting. That's when the bog is flooded with water and the cranberries float to the surface, where they are easily scooped up.

6. Sailors once used cranberries as a source of vitamin C to prevent scurvy. Besides Vitamin C, we now know that cranberries are also full of antioxidants that help cleanse and purify the body.

7. Some cranberry bogs are more than 100 years old and still produce today.

9. Americans consume some 400 million pounds of cranberries a year, 20 percent during Thanksgiving week.

9. American recipes containing cranberries date from the early 18th Century.

10. Irish rock band The Cranberries biggest hit was the song "Zombie," which reached Number One on the charts.

HOLIDAY CRANBERRY SALAD RECIPE
Sweet fresh orange and apple chunks accent the tart flavor of the cranberries to create this classic holiday side dish.
Why try? Hey, it wouldn't be Thanksgiving without cranberries, now would it?
Foodie Byte: Using fresh oranges, apples, and cranberries gives this salad a robust flavor that's hard to resist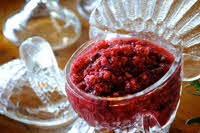 Ingredients
ยท 3/4 cup orange, fresh, with rind, 3/4-inch diced
ยท 1 cup fuji apple, fresh, with peel, 1/2-inch diced
ยท 3 cups whole cranberries, fresh
ยท 1/2 cup celery, fresh, finely chopped
ยท 1/2 cup sugar
ยท 1 cup whole berry jellied cranberry sauce
ยท 1/2 cup pecan pieces

Preparation
1. Process orange in Cuisanart for 30 seconds.

2. Combine all other ingredients (except pecan pieces) with orange in Cuisinart and pulse 8 to 10 times or until ingredients are coarsley chopped.

3. Stir pecan pieces into mixture.

4. Cover and chill.

Article, Photo & Recipe courtesy of www.FoodChannel.com