A New Take on Traditional Foods for
Mexican Holiday, Day of the Dead
Food will no doubt be a focal point for families celebrating the Mexican holiday Day of the Dead this November 1 and 2. What has become one of the most popular holidays in Mexico -- and is becoming more common in the U.S. -- is the custom of honoring and remembering deceased loved ones. Gathering with friends and family over delicious traditional dishes is sure to be a highlight of celebrations.

Recipe below
Mole sauce is one tradition in Mexican cuisine incorporated into many dishes, with each family and cook creating their own unique recipes. For a fresh twist on a classic mole, Fiesta Mole Sauce for Chicken Bake calls for a sauce infused with Nielsen-Massey Pure Chocolate and Pure Almond Extracts, which add a distinct depth and dimension to the sauce. The Pure Chocolate Extract brings the uninhibited depth of dark chocolate and complements the Pure Almond Extract, which is made from the purest of bitter almond to round out the sauce with richness and subtle distinction.

Using the mole sauce in dishes is as simple as topping grilled or baked chicken or turkey with the mole, or it can be used in the Fiesta Chicken Bake recipe.
FIESTA CHICKEN BAKE WITH MOLE SAUCE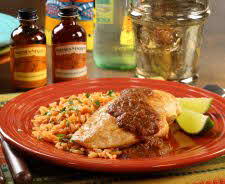 FIESTA MOLE SAUCE
Ingredients
• 1 tablespoon vegetable oil
• 1 poblano chile, chopped
• 2 cloves garlic, chopped
• 1 small onion, chopped
• 1 tablespoon chili powder
• 1 cup chicken stock
• 1 teaspoon Nielsen-Massey Pure Chocolate Extract
• 1 teaspoon Nielsen-Massey Pure Almond Extract
• 1 teaspoon salt
• 1/2 teaspoon cinnamon
• scant 1/4 teaspoon cloves
• 2 tablespoons raisins
• 1 cup crushed tomatoes

Directions
Heat the oil in a medium-sized frying pan and add the chile, garlic and onion.
Saute until the mixture is fragrant and the onion is translucent.
Cool slightly and add to a blender.
Blend until smooth.
Return the mixture to the pan and add the remaining ingredients and cook, stirring occasionally 30 minutes.

Use the mixture to top grilled or baked chicken or turkey. Or, use in this casserole:

FIESTA CHICKEN BAKE
Serves 4
Ingredients
• 3 corn tortillas, torn into pieces
• 2 chicken breasts, sliced into 3/4 inch slices
• 1 recipe Fiesta Sauce (above)
• 1/2 cup Monterey Jack or Chihuahua cheese, shredded
Directions
In a casserole dish that has been sprayed with non-stick spray, layer the tortillas and chicken breast slices.
Top with the sauce, cover and bake until the chicken is done, about 45 minutes.
Remove cover, and sprinkle with the cheese.
Continue to bake until the cheese is melted, about another 15 minutes.

About Nielsen-Massey Vanillas
Throughout its more than 100 year history, Nielsen-Massey Vanillas has earned its reputation as a manufacturer of the finest extracts in the world.