Edward G. Leonard
CMC, GMC, FSP, AAC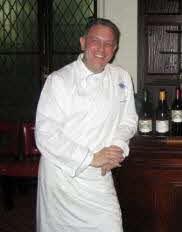 Chef Edward G. Leonard is the vice president and corporate chef for the Le Cordon Bleu Schools in North America. He is a past president of the American Culinary Federation (ACF) and former executive chef of The Westchester Country Club (the 12th top ranked platinum club in the United States) and the vice president of the World Cooks Societies.

He is one of only 72 Certified Master Chefs in the United States and a member of the World Master Chef Society, along with being a certified WACS master chef. He received an honorary full doctorate in culinary arts from Johnson and Wales University and from HMIF.

Chef Leonard has extensive experience as an educator, speaker, manager, cook, restaurant owner and executive chef. He maintains a strong reputation as a speaker and motivator.
Publications
Chef Leonard is an accomplished author of seven culinary books including:
• You Eat with Your Eyes, endorsed by Chef Martin Yan and Chef Jean Georges Vongerichten
• Taste and Tales of a Chef. Prentice Hall, May 2004
• Guide to Culinary Competitions, Cooking to Win. Wiley and Sons, June 2005
• Cooking with Americas Championship Team. Feeding Frenzy, Inc, January 2005
• Private Club Cuisine. Wiley and Sons, March 2006
• You Eat with Your Eyes. LTD, Inc, September 2008
• Cooking with Americas Championship Team II; LTD, Inc 2009
• The Essential Book of Modern Buffets, Wiley and Sons, end of 2010
Chef Leonard was the team chef and leader of the ACF Culinary Team USA from 1998 to 2008 leading a team of chefs from America that cook on an international stage every four years in Germany in the culinary Olympics. His team in 2004 finished with one of only four gold medals earned out of 32 national teams from around the globe in the hot kitchen, finishing third overall. He lead the national team to three golds and one silver and his regional team to the world championship in 2008. He has led the Culinary Team USA to 5 championships and more than 34 gold medals in the international arena. Chef has won more than 50 gold medals in competitions and having gold in every category including pastry and centerpiece work.

Some of Chefs AWARDS & RECONITIONS
• Inducted into the Cordon D'OR culinary hall of fame 2008
• Winner of Two Cordon D' OR awards for "You Eat with Your Eyes"
• Winner of three culinary awards for his books Cooking with America's team and Private club cuisine cooking with a master chef
• Over 50 gold medals in cookery from the USA and Globally
• Sante magazine culinarian of the year 2007
• Honorary member Dubai Chefs Association
• Chefs award for professional global contribution Singapore Chefs Association
• Gold medal award from the Gourmet Summit in Singapore for best chef and leader in culinary arts
• Keynote Speaker Café educational conference 2009
• Keynote speaker CMAA convention 2007
• Inducted into the Antonin Careme Society at a private diner in San Francisco 2006
• Featured chef at the James beard house New York twice for a Dinner with the masters and a double gold medal winners wine and food tasting dinner
• Crystal Chef Award Van Heche Restaurant Company Holland
• Honorary Doctorate from Johnson and Wales University
• The American Academy of chefs Chairs award
• General John D. McLaughlin AAC educational award
• Chefs Professionalism Award
• Inducted into the World Master Chef Societies
• Food network three times featured in their competition series with Culinary team USA and becoming a master chef
• Johnson & Wales University –Commencement speaker
• Culinary Institute of America – Commencement Speaker 1996 and 2003
• Atlantic Academy College – Commencement Speaker
• Johnson & Wales University – Distinguished Visiting Chef
• Institute of Art – Master Chef Series Visiting Chef
• Culinary Institute of America, Guest Chef
• Nichols State University Distinguished Visiting Chef
He is one of the top chefs in the country and a leader for the industry and is invited to speak all over the world in regards to the profession and American cuisine.

He was the featured speaker in Ireland for the 2004 World Association of Cooks Congress, in New Zealand in 2006 and again in Dubai in 2008 and a speaker at the World Gourmet Summit in Singapore in April of 2003 and 2005, while also judging the Taste of Asia competition.

His presence was so well received he returned to the Gourmet Summit in Singapore April of 2007 to partake in a gourmet Foie Gras Dinner and to cook and give presentations to the Singapore chefs and culinary students on cuisine in America with his hot seminar called "making food dance."

He was given the honor of being inducted into the Antonin Careme Society at a private diner in San Francisco.
Education
• Masters in Cookery, ACFEI/Culinary Institute of America 1996
• Honorary Doctorate in culinary arts, Johnson and Wales University, 2005
• Honorary Doctorate in hospitality management, International Facility Management Association, 2007
• Thamside Business School, London, England, Degree Sales & Marketing, 1992
• Public Relations and Public Speaking and Crisis Control MGMT, Fleishman-Hillard, NY, 1993
• Apprenticeship; France, Italy and London England, 1980 to 1984

Culinary Apprenticeship & General Business/Culinary Studies
• Regional Italian cooking Training in Parma, Rome, Florence, Venice, Trenitino & Umbra
• Van Heche Restaurant Group, Holland
• Trust House Forte, London, England
• Ceres Restaurants, Paris, France
• Café Royal, London England
• Valencia, Spain