Nathan Lyon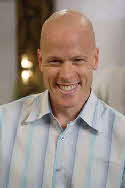 Chef and Host of A LYON IN THE KITCHEN
Thursday Nights at 10 PM (ET/PT), Beginning March 29, 2007
As host of A LYON IN THE KITCHEN on Discovery Health, Nathan Lyon shows viewers that cooking with fresh ingredients doesn't have to be intimidating or complicated. He believes great food starts fresh and the fresher the ingredients, the better the food.

Nathan began his culinary career in his grandmother's Arlington, Va., kitchen. However, it was in his grandparents' garden that Nathan first learned to appreciate the value of fresh, seasonal ingredients. While attending James Madison University, where he earned a bachelor's degree in health science, Nathan began working in restaurants. After graduating, Nathan toured Europe for six months and discovered a passion for a wide variety of regional cuisines.

Armed with a newfound desire to surround himself with high-end cuisine, Nathan accepted a position at the Foundation Room in The House of Blues on the Sunset Strip. After years of watching chefs create lavish meals for exclusive clientele and indulging in Los Angeles-area restaurants, Nathan attended the California School of Culinary Arts (CSCA) in Pasadena. Prior to graduating among the top in his class, Nathan represented CSCA as a selected student chef in a culinary competition in Las Vegas. Nathan was also chosen as a finalist to compete in the 2006 The Next Food Network Star competition in New York, which aired on Food Network in March 2006.

Nathan's first externship upon graduating from CSCA was with Suzanne Goin, voted one of Food and Wine magazine's "Best New Chefs of 1999," at her renowned Los Angeles restaurant, Lucques. Following his stint at Lucques, Gloria Felix (AOC, Ciudad and Vida) and Marshall Blair (The Water Grill) approached Nathan to assist with the opening of their Silverlake restaurant, Blair's. Nathan's next culinary stop was Vibrato, a well-known Bel Air jazz restaurant owned by jazz legend Herb Alpert. There, Nathan worked under the progressive culinary eye of Chris Ennis (Astra and The Quail Ridge).

Nathan continues to appreciate quality seasonal ingredients and works closely with California farmers, enabling him to bring the freshest ingredients to both his workplace and the tables of his friends and family.