Chef Shellie Kark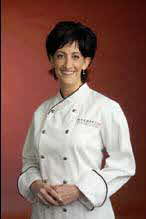 Shellie Kark, co-founder of KitchenCUE*, is a professionally trained chef and culinary educator. Kark has over 12 years experience in various capacities throughout the culinary industry. Her prior restaurant experiences at San Francisco's La Folie and Seattle's Dahlia Lounge sharpened her skills in the execution of complex recipes in four-star restaurants and seasonal menu development. Since moving to Denver, Kark has become a local celebrity chef making frequent live appearances on the NBC affiliate, 9NEWS, where she demonstrates and creates unique dishes for viewers of the four o'clock news.

Kark studied at the California Culinary Academy where she received her Associate of Occupational Studies, graduating in the top one percent of her class. She has since been certified as a Sommelier and is a board member of the American Institute of Wine and Food. From 1998 through 2004, Kark was a leading culinary instructor at Cook Street School of Fine Cooking, named one of the "Top Cooking Schools," by Smart Money Magazine. She was responsible for writing course curriculum, implementing the Professional Food and Wine Career Program and generating additional revenue for the school by catering private events. Kark is known for infusing her students with the same passion she shares for cooking.

Kark continues to educate aspiring cooks at The Seasoned Chef Cooking School providing inspiring educational classes with an influence from French, Italian and Spanish cuisines. She consults with various authors with recipe development, testing and editing on an on-going basis.


*KitchenCUE, an educational and interactive DVD series, measures real value by teaching viewers the core methods of cooking rather than focusing on the execution of a specific recipe.