KELSEY NIXON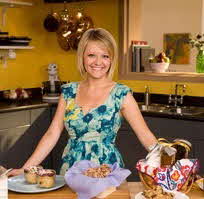 Kelsey Nixon (Kelsey's Essentials, Cooking Channel) began teaching others to cook in college when she created her own cooking show, Kelsey's Kitchen, emphasizing fast, fun and affordable meals. Over the course of two years, Kelsey produced and hosted 100 episodes featuring recipes that were simple yet satisfying.

After graduating with a degree in broadcast journalism from Brigham Young University, Kelsey attended Le Cordon Bleu - Hollywood, where she earned her professional culinary arts degree. After additional training at The French Culinary Institute, she gained a wealth of knowledge through internship opportunities at Martha Stewart Living and Food Network's Semi-Homemade Cooking with Sandra Lee.

Kelsey was a finalist on season four of The Next Food Network Star, where she made it to the top four and was voted as Fan Favorite.

She has published original recipes in 'Bon Appétit' and 'Cosmo Girl!', and also developed a recipe for Red Lobster's "Fresh Catch of the Day" menu, featured in more than 600 restaurants nationwide.