David Moorehead, C.E.C.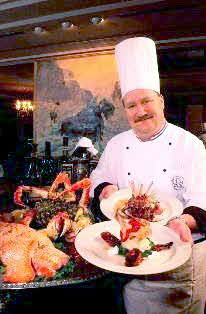 Current location:
Baranof Hotel, Gold Room
Juneau, Alaska
Born in Rhode Island, David grew up as a young man by the Atlantic Ocean and the bounty of Narragansett Bay. Surrounded his whole life by seafood, he worked with his family, fishing for bay scallops, quahogs, clams, lobster, and various fish.

With a Bachelors degree from the University of Rhode Island, and training at the Culinary Institute of America, Chef Moorehead has over twenty years experience in professional kitchens. Obtaining his Certification as an Executive chef in August of 2010 with the American Culinary Federartion. He has been published by Paula Dean, "Gourmet" magazine, and on local radio broadcast radio.

He has worked as a private chef in New England, Chef de Cuisine and Executive Chef at resorts in Sun Valley, Idaho and Estes Park, Colorado. Most recently he was the opening head toque at a remodeled grand hotel in New Hampshire.

Currently working as Executive Chef at The Baranof Hotel in Juneau, he lives with his wife Gail and seven year old daughter, Devin, enjoying boating in the waters of Southeast Alaska and fishing for abundant salmon and halibut.