KOHLRABI
Kohlrabi will keep 2 to 3 months at 32 - 35 degrees F with very high humidity. This is the USDA recommended storage. Many sources state that it can only be stored for 4 or 5 days. This is not correct.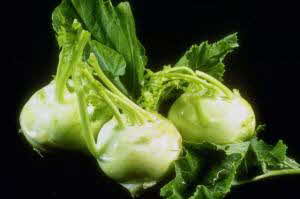 Kohlrabi may look like a turnip, but its taste is very different, with a sweet, peppery, broccoli/cucumber flavor and crisp texture. They are excellent raw by itself and in salads, and may also be steamed, stir fried, braised or stuffed. The cooked leaves have a collard like flavor.

Kohlrabi is high in fiber, and excellent source of vitamin C and a good source of potassium. It contains about 40 calories per cup.
Selected at about the size of a fresh plum, KOHLRABI is excellent eaten raw after peeling the outer tougher skin and slicing into 1/8 inch slices. It has the texture of a water chestnut with a mild cabbage-like flavor. Avoid KOHLRABI's larger than that of a small apple if you want to enjoy it raw. I eat most of my crop raw, either as a garnish on salads or fresh from my hydroponic pots. The plants are easy to grow from seeds [readily available] and are cold hardy, surviving freezing temperatures for a few hours. The plants are less tolerant of the high summer heat in Fla. They grow readily in normal soil but my dogs have discovered the fine quality of KOHLRABI and 'pick it' before I can get to it, therefore, I must grow it hydroponically, out of their reach. Cooked KOHLRABI doesn't seem as appealing as the fresh item. This is a much under-appreciated vegetable.
Contributed by Ernest L. Rhamstine, Retired Prof. of Microbiology