See also: Halloween Recipes
HALLOWEEN PARTY TIPS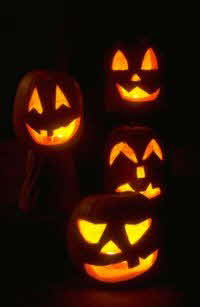 1. Children's Activities:
For children that aren't out trick-or-treating ensure that there is something at the party to keep them entertained and occupied. Set-up a small table for spooky cookie decorating by providing plain sugar or chocolate-chip cookies, and decorations such as chocolate chips, festive sprinkles and colored icing.

2. Pumpkin Dishes:
After spending all of that time carving pumpkins for decoration, use the fruits of your labor as unique, autumnal offerings for your guests. Dish ideas include toasted pumpkin seeds as an item to snack on before dinner, oven roasted butternut squash with toasted pumpkin seeds for a side dish, crusted pumpkin seed chicken as a main dish at dinner and baked apples with pumpkin seeds as a delicious, sweet dessert.

3. Creepy Cocktails.
In the spirit of scary, create a signature drink for your Halloween party and give it a creepy name. Cocktails such as a Bloody Mary or red sangria provide a traditional cocktail offering to suit your guests' taste buds, but are in tune with the Halloween theme due to their blood-red coloring. Serve the sangria out of a Witch's cauldron and the Bloody Marys in individual "mad scientist" beakers.

4. Haunted Playlist.
To top it all off, make sure to have a playlist of Halloween classics such as Michael Jackson's "Thriller" and the age-old party favorite, "Monster Mash," to ensure guests stay in the spooky spirit.
* Courtesy of Maria Zoitas, creator of "Maria's Homemade" line of prepared food sold exclusively at Westside Market NYC www.wmarketnyc.com/