SLOW COOKER CHILI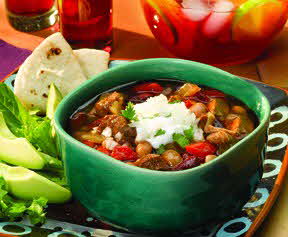 Prep time: 20 minutes
Makes 2½ quarts or 6 servings
Ingredients
· 1 cup dried pinto beans, sorted and rinsed
· 1 cup dried red kidney beans, sorted and rinsed water
· 1½ pound beef sirloin or pork loin,trimmed and cut into 3/4-inch cubes (3½ cups)
· 1 pound yellow or white onions, coarsely chopped
· 1 red bell pepper, seeded and diced (1-1/3 cups)
· 1 tablespoon chili powder
· 1 tablespoon ground cumin
· 1½ cups salsa
· 5 cups water

Directions
At least 6-8 hours before cooking (or overnight) soak dried beans in a bowl. Beans should be covered with enough water to stand 2-inches above beans. Soak a minimum of 6-8 hours or overnight.

Drain beans, place in 5 to 6-quart slow cooker. Add meat, onion, bell pepper, chili powder, cumin, salsa and water. Cover slow cooker with lid. Turn on high setting for 7 to 9 hours, or until meat and beans are fork tender. Serve in bowls topped with sour cream, cilantro and extra onions, if desired.
For a Vegetarian Version:
Omit meat. Add 1 cup canned or frozen chopped mild green chiles (drained), 1/2 cup uncooked brown rice and an additional l cup water. Cook as directed above.

Recipe and image provided by the National Onion Association