SALMON, GREEK IDAHO POTATO STACK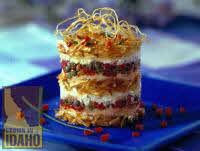 Greek Idaho Potato Stack With Salmon Recipe

INGREDIENTS:
• Cooking spray
• 1/4 c olive oil
• 2 large Idaho russet potatoes, grated, rinsed, drained and patted dry
• 6 oz. goat cheese
• 1 c minced red onion
• 1/4 c Capers
• 1 large roasted red pepper, chopped small
• 1 lb. salmon fillets, cut on bias in small, thin pieces
• Salt and pepper to taste

DIRECTIONS:
Spray 6, 8-oz. sized empty, clean cans with spray coating. Leave bottom lid intact.

Drizzle a small amount of oil in bottom of can and evenly distribute enough potatoes to form a bottom layer. Flatten out a piece of goat cheese and then layer it with red onion, capers, roasted peppers, and salmon. Use enough pieces of salmon to reach the sides of the can while covering the center as well. Repeat complete layer again and finally top the stack with more grated potatoes and a little oil. Press the contents down firmly with a container that will fit inside the can.

Bake at 350°F for about 25-30 minutes. Let stand a few minutes to set up. Invert onto plate and remove bottom of can with can opener. To plate, lift sides of can up while pressing down on the cut bottom.

Doughty's Bistro, Boise, Idaho/Chef Joyce Doughty
Idaho Potato Commission: www.idahopotato.com