PAN-ROASTED STRIPED BASS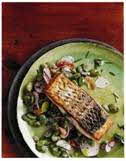 "Nothing turns average cooks into great ones quicker than fresh ingredients," New York Chef Tom Colicchio says in the July/August Issue of Men's Health magazine.

Ingredients
• 2 Tbsp peanut oil
• 4 center-cut-striped-bass fillets (1 inch thick, 6 oz each), with skin on
• 3 Tbsp unsalted butter
• 2 sprigs fresh thyme
• Coarse sea salt

Directions
1. Heat the oil in a large skillet over medium heat. Dry the fillets thoroughly with paper towels (this will help keep the skin crisp), season them wish kosher salt and pepper on both sides, and then add them, skin side down, to the skillet. Reduce the heat (The oil should sizzle, not sputter) and cook the fillets until the skin becomes crisp, about 3 minutes. Turn the fillets and gently brown the other side, about 3 more minutes.

2. Add the butter and thyme. Continue cooking, turning the fillets once or twice so they brown evenly, and basting with the lightly browned butter. Cook until the fish is opaque, about 4 minutes. Serve at once, drizzled with the browned butter and sprinkled with coarse sea salt.

Recipe & photo courtesy of Mens Health magazine