LIV™ SPORTS DRINK INTRODUCED IN U.S.
First to Use Agave Nectar as Sweetener and To Contain NO Form of High Fructose Corn Syrup
Princeton, New Jersey: July 24, 2006
Ritorna Natural, Inc., a new beverage company based in Princeton, today introduced LIV™, an innovative, new sports drink designed for athletes, active adults and kids. LIV is positioned to dominate leading sports drinks in taste and health benefits. The most important differentiating factor is LIV's use of agave nectar instead of high fructose corn syrup.

Its first two flavors are Berry and Lemon. Bottles come in a 20-ounce size with an SRP of $2.00-$3.00.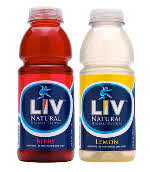 In addition to being a delicious and healthy refreshment, LIV helps consumers recover more quickly from exercise or any form of exertion. LIV is a carbohydrate-based electrolyte drink that contains no artificial ingredients – no artificial flavors, dyes or sugars. It is well positioned to succeed amidst Bill Clinton's legislation, which sets healthy beverage guidelines for schools nationwide.

Nancy Dince, COO of Ritorna Natural, commented, "We are at the starting block and are thrilled to go out with LIV this summer. Our timing is optimum with increased public discussion of obesity in America and current legislation for healthier school guidelines for beverages. Our early interest among retailers, food management companies and serious athletes is phenomenal. The key to our success will be guiding consumers through the misleading advertising of so many sports drink contenders. Once consumers taste LIV and feel replenished because of it, they will be our fans."

Agave Nectar Vs. High Fructose Corn Syrup?
All sports drinks contain some sugar to assist athletes in recuperating from exertion and to improve taste. However, the type of sugar is critical. Most sports drinks contain high-fructose corn syrup, an unnatural, unhealthy sweetener that can actually cause hunger. Other sports drink use non-calorie sugar substitutes such as saccharin and aspartame that are unnatural and provide no nutritional value.

In contrast, LIV is made with agave nectar, a natural, unprocessed source of sugar that the body breaks down more slowly, thus providing better, more balanced recovery after exercising, a tough work-out, a big game, or any other strenuous activity.

Tasting Notes from
Chef James
I don't drink a lot of sports drinks, but I must say that the 2 varieties of LIV I sampled were excellent (Berry and Lemon). LIV has no artificial ingredients and no high fructose corn syrup (they use agave nectar for sweetening), and I believe this accounts for the excellent flavor.
Bottom Line: Try it, I believe you'll like it!!

What's Wrong with High-Fructose Corn Syrup?
The key problem with high-fructose corn syrup is that it is an artificial sweetener, so the body does not handle it the same way it does a natural sugar. High-fructose corn syrup is processed more like a fat. It causes a hormone called "ghrelin" to increase in the body. This hormone triggers feelings of hunger, which is not a desirable effect. Nevertheless, high-fructose corn syrup is utilized in virtually all processed foods and beverages, because it is inexpensive.

But What About Taste?
After surveying everyone from high-performance athletes to children, men, women and "weekend warriors," LIV stands up to the taste test. In fact, more than 74% of respondents say that LIV tastes very good or even excellent. This is especially good news for parents and others trying to find a healthy beverage alternative for kids. Currently, LIV is available in two flavors, lemon and berry.

What Else Makes It Special?
In addition to agave nectar for sweetening, LIV contains rice syrup, which provides a healthy source of carbohydrates, another nutrient needed for recovery from exercise. Rice is an especially good carbohydrate, because it is easily digested and has no cholesterol. Rice has a neutral flavor, so drinkers only taste the fruit juices and other natural ingredients that give LIV its outstanding flavor. LIV also offers athletes an ideal mix of potassium and sodium to replace these minerals that are lost during exertion. As a result of LIV's unique balance of healthy sugars, carbohydrates and minerals, athletes surveyed reported improved recovery when drinking LIV before, during or after exercise.

The same qualities that make LIV effective for athletes also make it helpful for those suffering from jet lag, illness and a normal active schedule.

Each eight-ounce serving of LIV lemon or berry contains 70 calories that are packed with the ingredients needed for recovery and no unhealthy, artificial ingredients. The complete list of ingredients is short and simple:

LIV Lemon: water, agave nectar, rice syrup, lemon juice concentrate, natural flavor, citric acid (from lemons), salt (to provide sodium) and monopotassium phosphate (to provide potassium).

LIV Berry: water, agave nectar, rice syrup, raspberry juice concentrate, natural flavor, salt, malic acid (from apples and grapes) and monopotassium phosphate.

About Ritorna Natural:
Princeton-based Ritorna Natural, Inc. maker of LIV, was formed in 2005. The company aims to create and market products that promote a healthy approach to life, nutrition and athletic training. The primary objective is to create products that taste good, improve athletic performance and contain only natural ingredients. LIV, The Natural Recovery Drink, is Ritorna's flagship product. It is manufactured in Watsonville, CA.

For more information: [email protected] or call 609.620.0143.

To order: Retailers and consumers may call 1.877.547.6875.