Caffe D'Amore Introduces Bellagio Sipping Chocolate
Rich Dessert Beverage Recently Honored As Best New Food Product By Prestigious Specialty Coffee Association of America
PASADENA, CA, June 28, 2006
Sipping Chocolate, a highly innovative new product under Caffe D'Amore's premium Bellagio brand, is now available to consumers nationwide after becoming an immediate favorite in restaurants and coffee shops following its introduction late last year.

Honored in 2005 as Best New Food Product by the prestigious Specialty Coffee Association of America, Sipping Chocolate is a luxuriously rich dessert chocolate, which Caffe D'Amore describes as being "to the lover of fine chocolate what espresso is to the lover of fine coffee."

Priced at 8.75 per 9 oz tin, Sipping Chocolate is now being sold in such major retailers as Saks Fifth Avenue Off 5th locations and food service clients nationwide – suitably enough - at the Bellagio Hotel in Las Vegas.

Imbued with an alluring taste of fine European dark chocolate (along with a hint of vanilla), this creamily delicious new gift to the palate is best enjoyed steamed with whole milk and is blended with only the finest possible ingredients. These include 100% pure cocoa powder, pure cane sugar, chocolate liquor, and cocoa butter (Sipping Chocolate contains no trans fats or hydrogenated oils).

A premium brand that deliciously blends old world tradition with present-day taste and health preferences, Caffe D'Amore's Bellagio brand is comprised of several distinct high-end lines, including Cocoa, Mocha, and Coffee.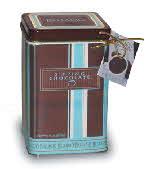 Says Chris Julias, CEO of Caffe D'Amore, "We are very proud of our Bellagio brand, and heartened to have seen it evolve into our premier line in such a short period of time. With Sipping Chocolate more popular than ever among our food service clients, the time was clearly right to introduce the line directly to consumers, and we look forward to significantly building the brand over the years ahead."

About Caffe D'Amore
With roots in an early 20th Century family café in Northern Italy, Caffe D'Amore is widely respected for its rich, delicious, and varied specialty beverages, including highly-successful lines of coffees, ice blended drinks, teas, nutritional supplements, and scones. Caffe D'Amore products – all developed, produced, packaged and distributed at the company's headquarters in Monrovia, California – are available to leading food service clients and popular retail establishments worldwide. For more information, please visit www.caffedamore.com or call 1-800-999-0171.