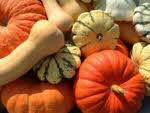 OCTOBER 29
Today in Food History
• Oatmeal Day (Oat Trivia & Facts)
• EU Daylight Saving Time ends (Oct 29, 2023 - begins last Sunday in March and ends the last Sunday in Oct)
• Feast of St. Thomas Bellacci, patron of butchers.

On this day in:
1682 William Penn, the founder of Pennsylvania, landed at what is now Chester, Pennsylvania.
(Pennsylvania Food Trivia)
1764 The first issue of The Hartford Courant was published. It is the oldest continuously published newspaper in the U.S.
1872 An all metal windmill was patented by J.S. Risdon of Genoa, Illinois.
1923 The United Farmers of Alberta form the Alberta Wheat Pool agricultural cooperative to stabilize prices. The Wheat Pool has over 25,700 members and over 1 million hectares under contract.
(Wheat Trivia & Facts --- Wheat Quotes)
1929 Black Tuesday. Stock markets in New York and other major American cities fell so dramatically, the day became known as Black Tuesday - the beginning of the Great Depression.
1945 The first U.S. commercially made ballpoint pens are sold for $12.50 each at Gimbel's Department store in New York City.
1947 The first successful cloud seeding (with dry ice) took place at Concord, New Hampshire.
1956 Fritz Hofmann died (born Feb 11, 1866). German chemist who first synthesized rubber (German patent No. 250690, Sept 12, 1909).
1991 The Yale Hotel in Grand Forks, British Columbia, Canada is destroyed by fire.
2012 (Oct 29-30) 900 mile wide Hurricane Superstorm 'Sandy' with 90 mph winds hits the East Coast of the U.S. Sandy drops up to 12 inches of rain; record 32.5 foot wave in NY harbor; 14 foot storm surge floods New York subways; shuts down Wall Street for several days; causes blizzards in West Virginia and Maryland; floods communities in 23 states; cuts power to more than 8 million residents; destroys beaches up and down the Eastern U.S. The worst storm in U.S. history.
2020 Coronavirus: New cases surge in Europe, France and Germany returning to harsh lockdown measures; U.S. cases and hospitalizations reach new highs, several states and cities closing restaurants and bars again.