HONEY-ORANGE GLAZED HAM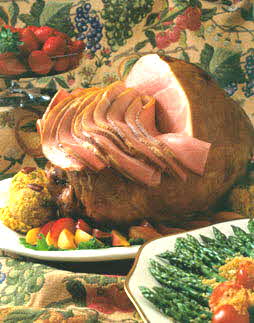 Serves 24

Ingredients
• 8 pound fully-cooked boneless ham
• 2 tablespoons orange juice
• 1 cup honey
• 1/4 teaspoon ground cinnamon
• 1/4 teaspoon ground cloves

Cooking Directions
For glaze, in a small bowl combine orange juice, honey, cinnamon and cloves; mix well.

Place ham on rack in shallow roasting pan.

Roast in a 325 degrees F. oven for 2 hours, or until meat thermometer registers 140 degrees F. (about 15-18 minutes per pound), basting with the honey glaze during the last 45 minutes.

Serving Suggestions
This ham recipe is perfect for a festive spring meal. The sweet honey-orange glaze adds just the right finishing touch. Serve with cornbread apricot stuffing, steamed new potatoes, asparagus vinaigrette, hot dinner rolls, and angelfood cake with fresh berries.

Nutrition Facts
Calories 150 calories; Protein 17 grams; Fat 4 grams; Sodium 920 milligrams; Cholesterol 40 milligrams; Saturated Fat 1 grams; Carbohydrates 12 grams

Recipe and photo courtesy of National Pork Board. For more information about The Other White Meat, visit TheOtherWhiteMeat.com