See also: Ugli Fruit Article
UGLI FRUIT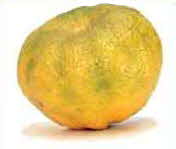 This Jamaican fruit is a cross between a grapefruit and a mandarin orange. It is about the size of a smallish grapefruit but is sweeter. The American pronunciation is "ugly" - pretty much describing its appearance. In the U.S. it is more well known as a crossword answer [clue - tropical citrus fruit] than as a bona fide member of the citrus clan.
Contributed by Ernest L. Rhamstine, Retired Prof. of Microbiology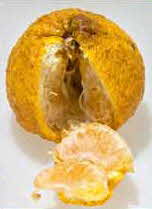 'UGLI® fruit' is a trademark name for this fruit that originated in Jamaica, most likely as a natural hybrid. It supposedly originated near Brown's Town in 1914, and was cultivated by F. G. Sharp at Trout Hall, and marketed by his son in the early 1930s.

FOOD TRIVIA and FOOD FACTS
Please feel free to link to any pages of FoodReference.com from your website.
For permission to use any of this content please E-mail: [email protected]
All contents are copyright © 1990 - 2023 James T. Ehler and www.FoodReference.com unless otherwise noted.
All rights reserved. You may copy and use portions of this website for non-commercial, personal use only.
Any other use of these materials without prior written authorization is not very nice and violates the copyright.
Please take the time to request permission.


FoodReference.com (since 1999)
FOOD TRIVIA and FOOD FACTS SECTION