FLORIDA SHRIMP SPRING ROLLS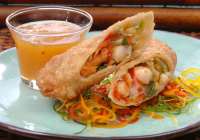 Yield: 12 egg rolls

Ingredients
• 1 pound medium Florida shrimp, peeled and deveined
• 14 teaspoons cornstarch
• 8 tablespoons soy sauce, divided
• 8 tablespoons canola oil, divided
• 1 cup Florida green onions, chopped
• 2/3 cup Florida carrots, grated
• 3 cups Florida cabbage, chopped
• 1 bag bean sprouts, chopped
• 2 teaspoons fresh Florida ginger root, grated
• 12 egg roll wrappers
• prepared sweet and sour sauce (optional)

Directions
Cut raw shrimp into small pieces.

In a medium bowl, combine cornstarch and 4 tablespoons soy sauce; then add shrimp. Mix well and set aside.

In a wok or large sauté pan, heat 4 tablespoons oil over high heat; stir-fry the shrimp, bean sprouts, cabbage, onion, ginger and carrot in oil until crisp-tender; cool slightly.

Transfer mixture to colander or pan to drain and cool.
When cooled, spoon 1/4 cup of shrimp mixture on the bottom third o f each wrapper. Fold bottom edge over filling; fold sides over filling toward center overlapping slightly. Moisten top edge with water; roll up tightly to seal.

Repeat with the remaining wrappers and filling.

Deep fry in 3 inches of very hot oil (375 degrees F) until golden brown; drain on paper towels.

Serve with sweet and sour sauce.

Nutritional Value Per Serving:
Calories 196, Calories From Fat 88, Fat Total 10g, Saturated Fat 1g, Trans Fatty Acid 0g, Cholesterol 61mg, Total Carbohydrates 16g, Protein 12g, Omega 3 Fatty Acid 0g

Courtesy of Florida Department of Agriculture and Consumer Services' Bureau of Seafood and Aquaculture Marketing