HOT DOGS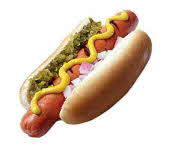 In his first 'talkie' cartoon in 1929, 'The Karnaval Kid,' Mickey Mouse's first words were "hot dogs."
When is 'Hot Dog Season'? Memorial Day to Labor Day is Hot Dog Season, when more than 800 hot dogs per second are consumed in the U.S. That's about 7 billion hot dogs for the season.

Americans eat more than 16 billion hot dogs each year and about 155 million hot dogs on the 4th of July (about 2.3 billion for the whole month of July). (2012)
Overall, 88% of hot dog eaters use mustard as a topping (2012).
Most popular hot dog toppings by region:
• New York - Mustard
• Chicago - Cucumber, Tomato, Pickle, Onion, Pickle Relish
• Los Angeles - Mayonnaise, Cheese.
(Nation's Restaurant News 2006)
Hot dogs or frankfurters, are usually said to have originated in Frankfurt-am-Main, Germany around 1484. Some claim it originated in Coburg, Germany and was created by butcher Johann Georghehner in the 1600, and Vienna also claims to be the origin.

George J. French introduced his French's mustard in 1904, the same year that the hot dog was introduced to America at the St. Louis World's Fair.

Nathan Handwerker started his own Coney Island boardwalk business in 1916 ('Nathan's') to sell hot dogs for a nickel. Reportedly this was on the advice of a singing waiter and his piano player, Eddie Cantor and Jimmy Durante.
Hot Dogs on a Bun:
The hot dog on a bun Americans are most familiar with, also has more than one story as to where it was first served. The most common story is that they were originally sold from pushcarts on the streets of New York City during the 1860s.

Another story has 2 steps:
They were a hit wrapped in paper at the 1886 Colombian Exposition in Chicago and in 1904 at the St. Louis Louisiana Purchase Exposition where they were probably first served in a bun (still called frankfurters).
What we do know for sure is that they were popularized as "red hots" in New York by Harry M. Stevens, a vendor at the Polo Grounds (some say Yankee Stadium). And T.A. Dorgan, a cartoonist named them when he drew one as a dachshund on an elongated bun around 1906 and called it a "hot dog."
President Franklin D. Roosevelt served hot dogs to King George VI of England during his 1939 visit to the United States.

In 2009 the world record for eating hot dogs was 68 Nathan's hot dogs and buns in 10 minutes Joey Chestnut.
(2009, Nathan's Famous Fourth of July International Hot Dog Eating Contest)

FREE Magazines
and other Publications
An extensive selection of free magazines and other publications
FOOD TRIVIA and FOOD FACTS
Please feel free to link to any pages of FoodReference.com from your website.
For permission to use any of this content please E-mail: [email protected]
All contents are copyright © 1990 - 2023 James T. Ehler and www.FoodReference.com unless otherwise noted.
All rights reserved. You may copy and use portions of this website for non-commercial, personal use only.
Any other use of these materials without prior written authorization is not very nice and violates the copyright.
Please take the time to request permission.
CULINARY SCHOOLS
& COOKING CLASSES
From Amateur & Basic Cooking Classes to Professional Chef Training & Degrees
FoodReference.com (since 1999)
FOOD TRIVIA and FOOD FACTS SECTION